We are continually improving our software to help insurance carriers and restoration contractors reduce liabilities, improve transparency and trust, and to work collaboratively with all stakeholders in the claims ecosystem. To make it even easier to document a loss, we have simplified our mobile app's navigation.
New Mobile Navigation
We have updated our mobile app's navigation to make it more intuitive and easier to use. First, we improved the Property Claims Inbox:
We have removed the black banner and added orange to help visually guide you to the "Add Claim" button.
A plus action added to the bottom banner allows you to add a claim.
In the bottom banner, tap the network symbol to check your device's connection to the internet to ensure that photos and documentation are being uploaded to the Encircle Web App. Note: this is where you will see syncing when it occurs.
A hamburger menu has been added to the top left. Tap this to open the Encircle Overview menu.
The refresh button has been removed. To refresh the inbox, gently pulled down and release.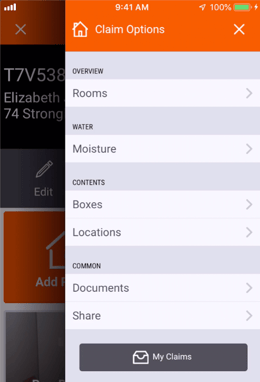 We have also improved the navigation within a claim by adding a bottom toolbar that allows you to return to the claim home screen, search within the claim, and open network settings.
In addition, the claim menu now swipes out from the right and features different workflows such as Water and Contents. Please note that to return to the Property Claims Inbox, just tap on the "My Claims" button at the bottom of the menu. To exit this menu, tap the "X" in the top right corner. To exit the claim, tap the "X" in the top left corner.
Need help navigating through the mobile app and setting up a claim? Check out our Resource section for helpful guides and tips. Don't see the new mobile navigation in your Encircle app? Visit the app store and update the Encircle Mobile App to the latest version.
Connect the Field to the Office
The Encircle Mobile App helps restoration contractors bridge the gap between their field and office staff by offering real-time remote visibility, improving communication and collaboration. Find out how Encircle can help you reduce liabilities and cycle times while exceeding customer expectations. Request a demo today!