Restorers using Hydro, Encircle's water mitigation software for their restoration jobs are reporting:
More confident field technicians
More consistent documentation
More complete reports to justify chargeout
The bottom line is that Encircle Hydro helps the bottom line - increasing profitability by at least 10% on every job and getting restorers paid faster with less pushback.
And we're always working on improvements to make Encircle Hydro even easier to use to help dry buildings and get paid on water damage restoration jobs.
It's all about the equipment
Equipment charges make up the majority of the opportunity for profit on a water damage restoration job. Yet, many restorers tell us that they are leaving money on the table by consistently undersizing the amount of equipment they place on the job. Why place three air movers in that wet bathroom when the science says you should place five?
By following the IICRC S500 standards in an easy, checklist-style workflow, Encircle Hydro water mitigation software automatically calculates the equipment requirements for each job. It makes sure you've got the right number of dehumidifiers and air movers to get the building dry, while also providing the documentation that justifies that equipment – putting more money in your pocket without pushback from adjusters.
Place your equipment
Once you've done your equipment calculation, Encircle Hydro allows you to quickly search, select, and place all of the required equipment directly on the job. As you select from your list of available equipment, you will see:
A summary of what you've already added
How many pieces are left to be added in order to meet the calculation
Make sure your techs can quickly document the use of the equipment for reporting purposes, so they can get on with the water damage restoration work, but you know you're not drowning your profits in an undersized water job.
Manage your equipment
Your fleet of drying equipment is critical to successful water jobs and we want to make sure that your field teams can quickly find the equipment they have in the Encircle app in order to place it on the job for documentation. Your organization's administrator can now manage the list of your company's equipment in company settings on the Encircle web app.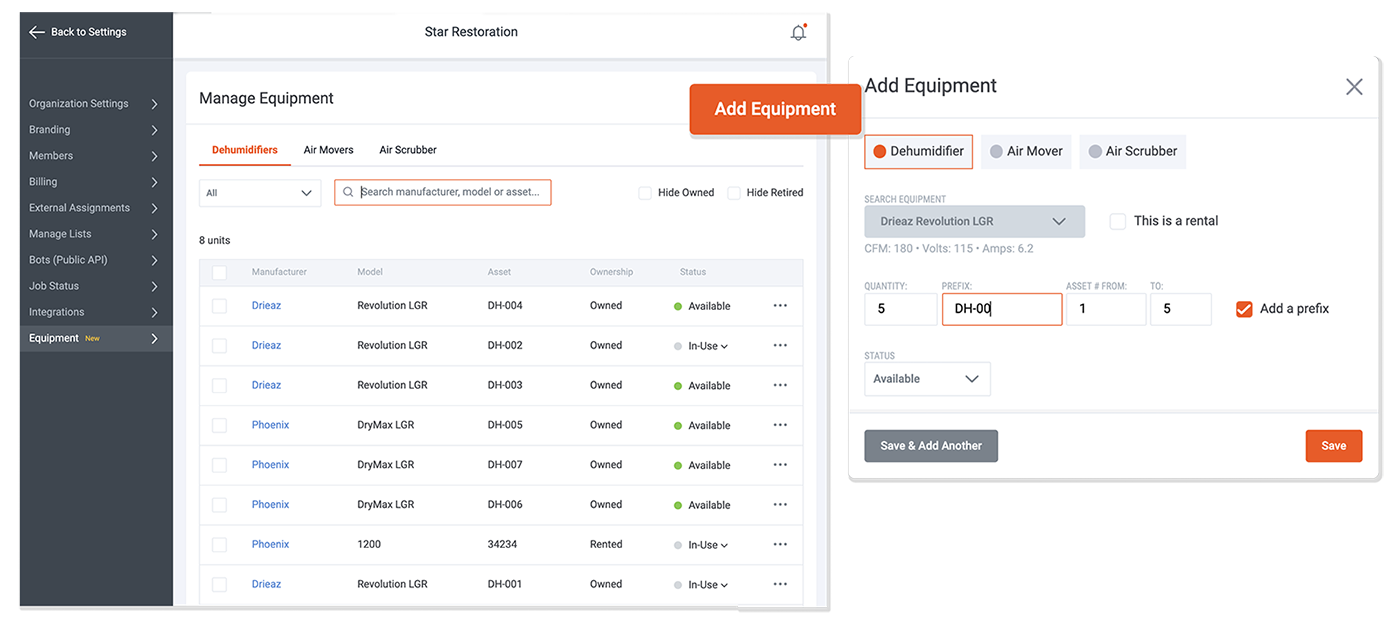 Create a moisture map
If your water mitigation workflow includes a moisture map, the optional moisture map feature in Encircle Hydro allows you to quickly draw a basic picture of the room. Additional tools let you place stickers to highlight moisture points, and show where the equipment is placed in the room. This visual representation will be included in the Hydro report, alongside the moisture readings and graphs to create an extremely thorough water damage restoration report.
Already an Encircle customer?
For a walkthrough of these new features contact success@encircleapp.com