ENCIRCLE LINK
Customer communication and e-signature tool
Connecting

insurance carriers and restoration contractors

to their customers.

Get documents signed remotely
Request photos and videos
Assess the loss before you deploy
Keep everything in one place
TRUSTED BY LEADING RESTORERS
"We definitely have the upper hand being able to send docs electronically. It saves us time and money with travel costs, allowing us to get in front of customers and sign off on projects a lot quicker."
NICK HUDSON
VP of Operations - Hudson Restoration
"Encircle Link cuts down on hours traveling back and forth making sure that documents, work authorizations, signatures, and photos are uploaded. Now I am able to complete more assignments."
DERRICK BALDREE
General Manager | FireStar Inc.
"We get those photos instantly, right as we're talking to the client, which helps my adjusting team get a really good sense of the damages and what they're walking into before they actually get out there."
ALFRED DE SOUSA
Vice President Claims National Field Services, Northbridge Insurance
Get eyes on the loss in seconds, directly from policyholders.
Photos, videos, and signatures at first notice of loss.
Instant photo and video sharing
Get documentation shared directly from the policyholder to the job file.
Document and form sharing
Send contracts, policies, and important forms directly to the customer.
Create items from photos
Get a head start on a contents inventory by listing items directly from the policyholder's photos.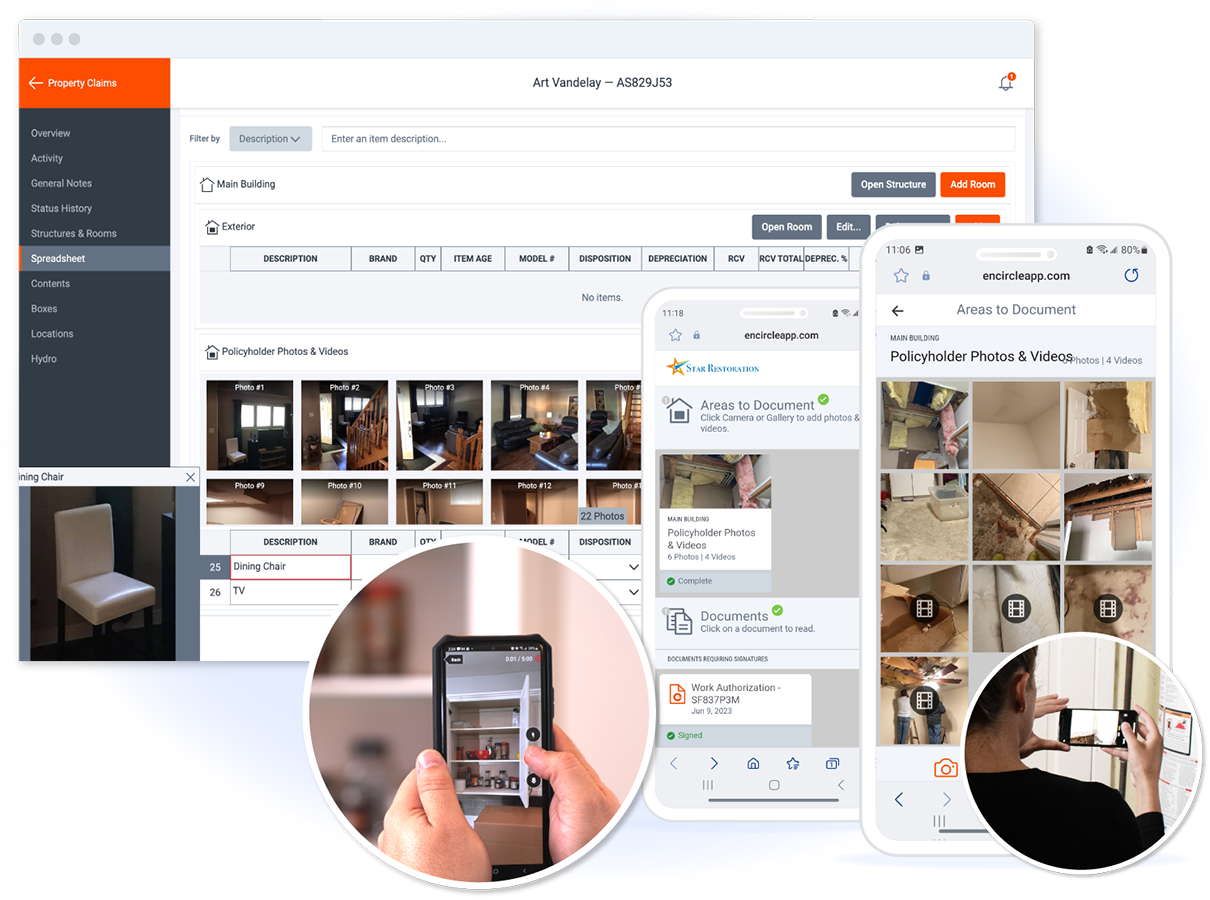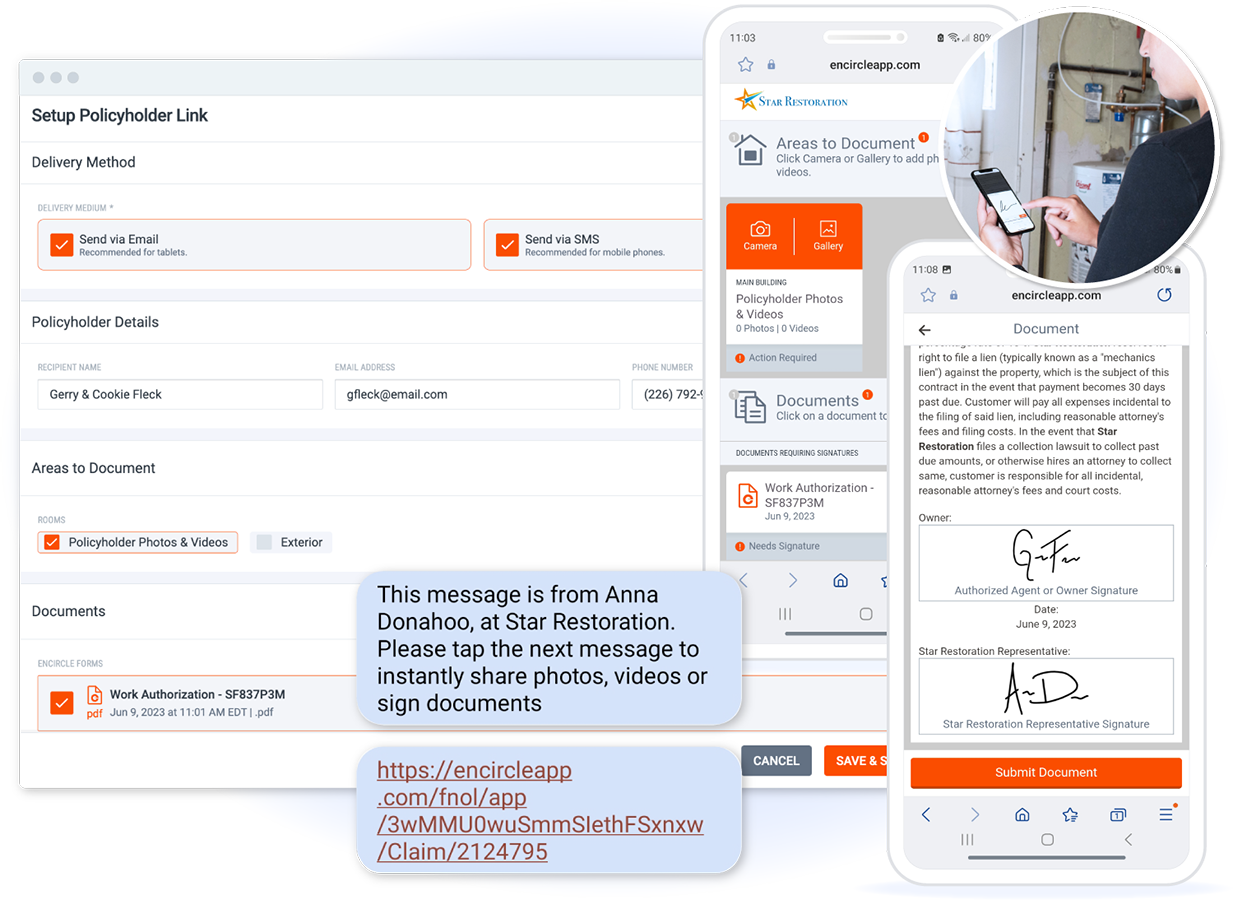 Connect with your customer.
e-Signatures
Capture signatures on important contracts and documents remotely.
Text or email communication
Request information via email or text (or both).
App-free experience
No app needed for customers to share photos, videos, or e-signatures.
Stay organized and informed.
Notifications
Get updates when the policyholder shares photos, videos, or signatures.
Multiple contacts
Request photos, videos, and signatures from multiple parties.
Record keeping
Everything shared will be organized in one place for easy access.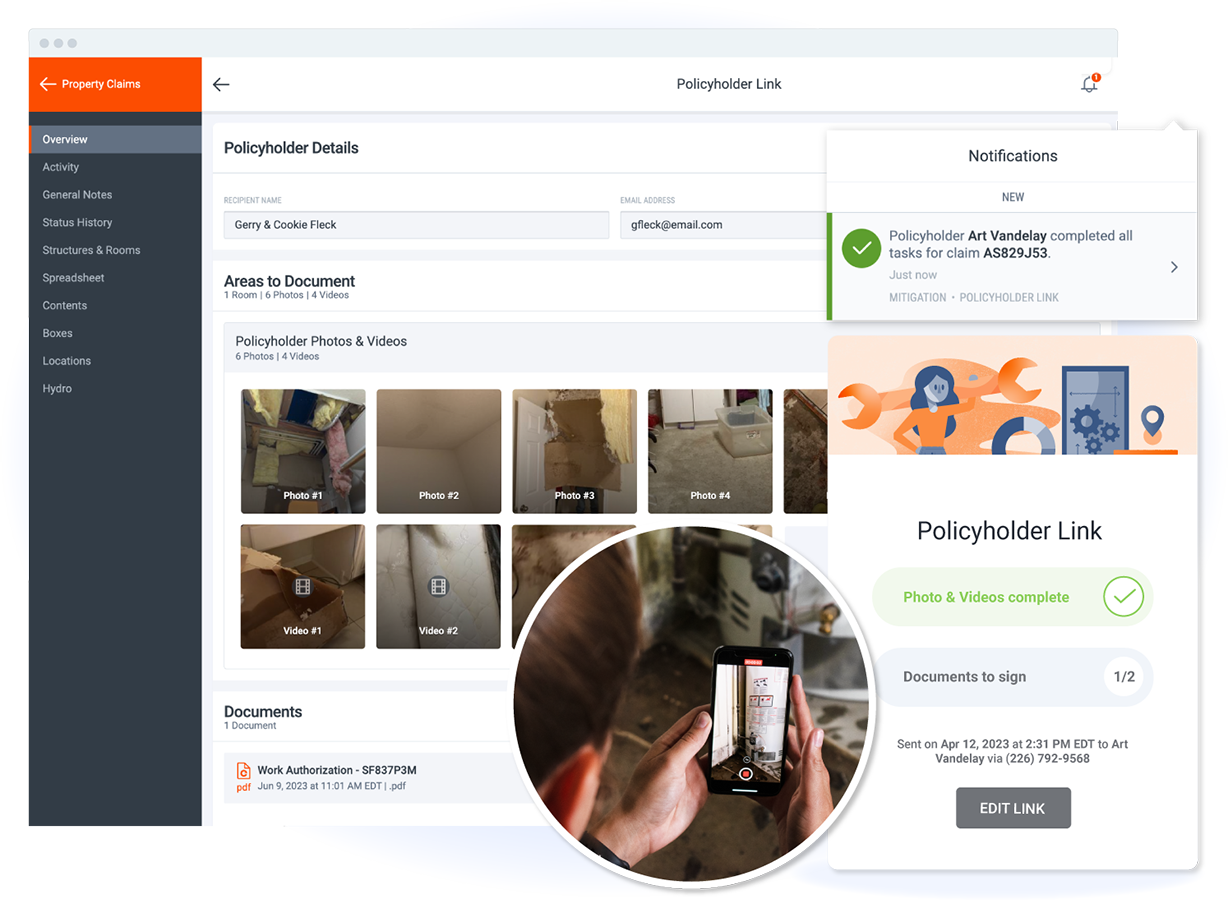 Quit wasting time chasing down signatures.
Request signatures, photos, and videos from customers before arriving on-site.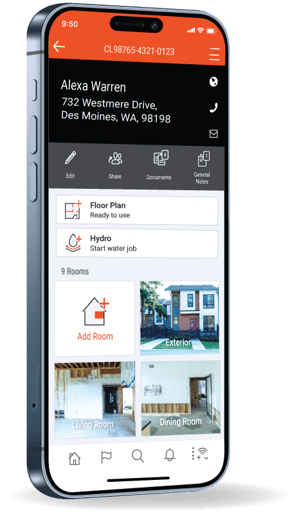 The Encircle edge
What you can't get anywhere else.
Field-first design - Documentation done right with fewer clicks.
Easy sharing - Easily share with teammates, subs, and adjusters.
No cell service? No problem! - Works even in extreme conditions.
Works on any device - Works on any smartphone, tablet or desktop.
Ultimate collaboration tool - Work together for documentation done faster.
Unlimited data, forever yours - Your data is yours, but kept safe without storage limits.
More Encircle Link resources:
Hudson Restoration reaping rewards with Encircle Link
Hudson Restoration saves time by going digital and joined Encircle in 2016. Nick Hudson, VP of Operations at Hudson commented, "Historically, Hudson was lacking the use of technology for efficiency and productivity. We were doing a lot of things manually on paper; we just weren't with the times."
FireStar gains remote visibility into losses with Encircle Link
Link helps FireStar understand the severity of a loss before they're on-site, allowing them to proactively mitigate the loss. Encircle Link connects policyholders to contractors and insurance carriers via text message or email, allowing all stakeholders to work collaboratively and see the progress on the claim in real-time.
Frequently asked questions
Below you'll find answers to some of the questions we get asked most!
Can I have my own forms and documents added to Encircle?
Yes! Encircle will transform your most important documents into digital versions and add them right to your account. These digital docs will then be available on web or mobile devices, to all users, in any job file. You can learn more about our forms service by visiting our Encircle Forms page.
Does my customer have to download the Encircle app?
Nope! Your customer will never need to download the Encircle app in order to access your documents for signing. You will simply send them a link through email or text that opens in their web browser. Because your forms are digitized in Encircle and optimized for a mobile experience, your customer will have no trouble viewing, signing, and sending your contracts and documents.
Does Encircle replace DocuSign or other e-signature softwares?
Sure does! Building your forms in Encircle and sending them to your customers via Link is all included as an Encircle customer. This means that you can eliminate the extra cost and hassle of using a separate e-signature tool and use Encircle as your all-in-one field documentation platform.