ENCIRCLE REPORTS
Thorough reports for property insurance claims
Compiling field data doesn't have to be so time-consuming.
Save hours using Encircle to tell the story of every loss.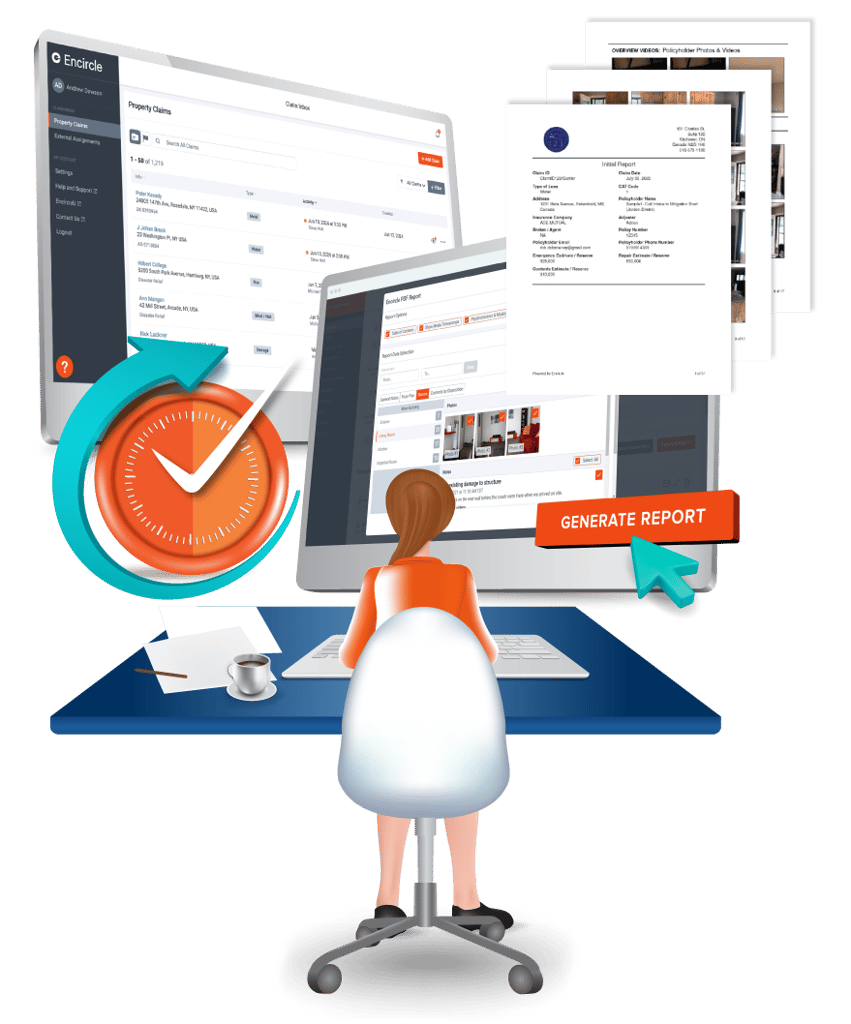 Choose from a wide array of report styles
Generate reports instantly, from anywhere
Communicate better to accelerate the claims process
TRUSTED BY LEADING RESTORERS
"The same report that took half an hour to compile with Encircle would have taken 24 hours for us to do a similar quality job."
KEEGAN TRUDGEN
Owner | PuroClean Disaster Services
"At the click of a button, you've got a document on a quarter-million-dollar dry out that just screams wow."
BRENT WERNER
President | Werner Restoration Services Inc.
"Wow, what an amazing level of detail in this report. The video is particularly helpful in setting the scene. It would be difficult to dispute."
ED CROSS
B.A., J.D, - "The Restoration Lawyer"
"Pictures tell 1,000 words. With Encircle, there's a preliminary report within hours. I can easily see how my project manager is reporting, and if I have any issues, I can make a quick phone call."
BUD VALLEE
Owner | ServiceMaster Restore of Brantford
"On the carrier side, we get less pushback because we build a big final report with the Encircle PDF report. It includes all the moisture readings, drying logs, photos, videos, notes, everything from the day we got there all the way through until the end."
EVAN MACFAWN
Senior Vice President | MacFawn Fire & Flood Restoration
"Encircle has helped a lot in our interactions with adjusters. Showing is a lot easier than telling, and Encircle is a powerful presentation tool to help the adjuster and insurance company understand how you operate and why."
MAX PENA
Marketing Manager | Pure Restore
"The [hospital] staff were so amazed at our communication and professional-looking reports. What would have previously taken me the better part of the day, I was able to do in under 3 minutes."
RAYLEEN MILLER
Aka "Lani" of Premier Restoration | Hawaii | Production Supervisor
"Once the adjuster meets with the policyholder, an accurate Advance and the Preliminary Report are submitted before the adjuster leaves the property."
JAMES GARDNER
Field Claims Manager/Adjuster | Administrative Strategies | LLC
Get everyone the information they need from Day 1.
Communicate with confidence.
Shareable file sizes
Keep file sizes down for easy sharing and sending with embedded media.
Interactive media
Enlarge photos, watch videos, and verify prices within contents listings with direct links to online retailers.
Field reporting
Generate professional reports from anywhere using the Encircle mobile app.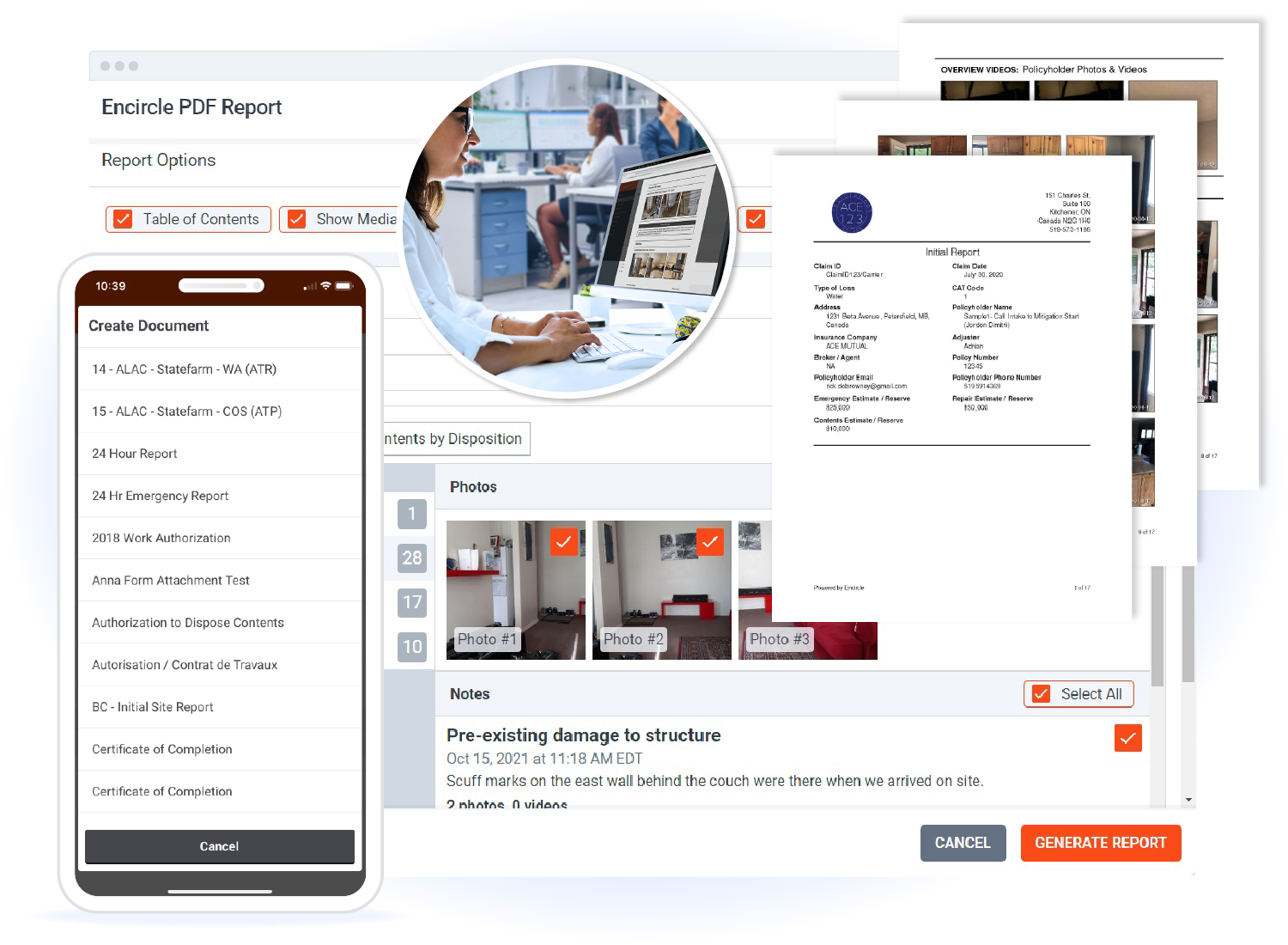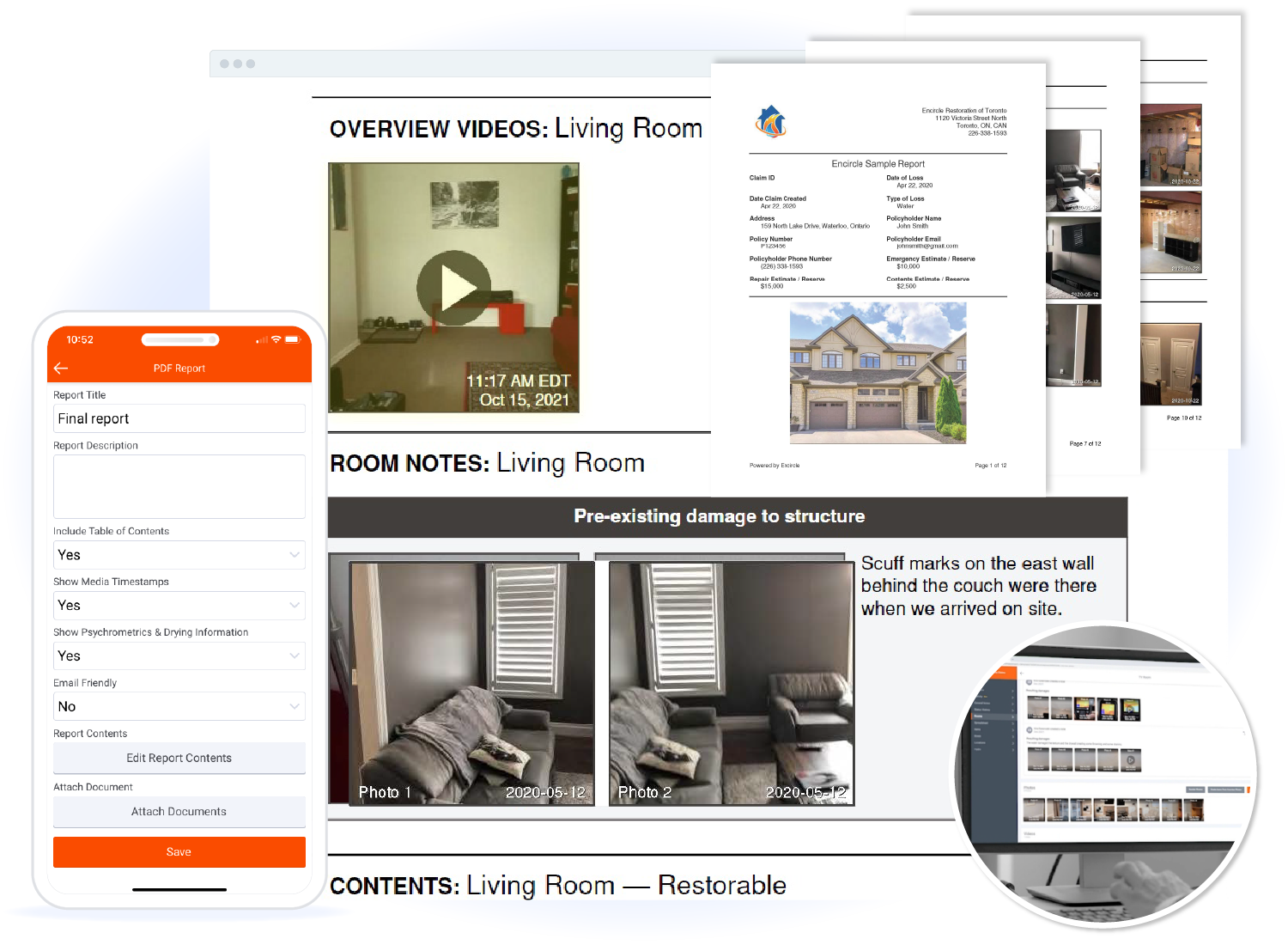 There's a report for that!
Report options
Generate any and all reports to suit your needs, in mere minutes.
Pick what you want included
Select documentation to populate your report. You can even attach other documents (like contracts and estimates) to keep it all in one package.
Custom report styles
Have a specific set of requirements? Work with the Encircle team to create a custom report style.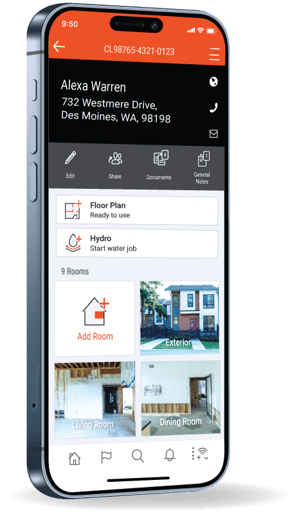 The Encircle edge
What you can't get anywhere else.
Field-first design - Documentation done right with fewer clicks.
Easy sharing - Easily share with teammates, subs, and adjusters.
No cell service? No problem! - Works even in extreme conditions.
Works on any device - Works on any smartphone, tablet or desktop.
Ultimate collaboration tool - Work together for documentation done faster.
Unlimited data, forever yours - Your data is yours, but kept safe without storage limits.
Indisputable facts - date, time, and GPS metadata for data integrity.
When it comes to

getting paid,

documentation is everything.
More Encircle Reports resources:
Frequently asked questions
Below you'll find answers to some of the questions we get asked most!
Can I upload my Encircle reports into XactAnalysis?
Yes! Encircle Excel and PDF reports can be easily uploaded to XactAnalysis. If required, individual photos can also be downloaded from Encircle and uploaded into XactAnalysis. All media downloaded from Encircle is already labeled, greatly reducing administrative time.
Can I add other documents to the Encircle report?
Any documents (e.g. subcontractor invoices, test results, MICA report, Xactimate estimate) can be uploaded to Encircle and attached to the Encircle PDF report. Many restoration contractors do this to keep all of the documentation from a job together in one place, in a format that is easy to share at a moment's notice.
How do I send my Encircle report to a Managed Repair Network/TPA or adjuster?
Reports can be sent directly by email from Encircle on the web or from the mobile app. Reports can also be uploaded into an external system like XactAnalysis.
How do I send my Encircle report to a customer?
We recommend emailing the Encircle report to your customer. Customer contact information is already in the file, making this quick and easy to do.
Does Encircle have insurance carrier reports?
Yes, Encircle has a growing library of carrier-specific reports. These include contents listings, inspection reports, and signable documents. If the report that you need isn't there, we can work with you to have it added to the database.
Is the Encircle PDF file too big to send by email?
The Encircle PDF reports contain thumbnails with clickable HTML links to view each photo and video. This keeps the file size down so that the report can be easily emailed without worrying about exceeding attachment limits. Clicking on the HTML links allows the viewer to look at the photos and videos in a larger format, zoom in/out, and even download the image.