Encircle Floor Plan will allow restorers to quickly capture properties using just their smartphone, and receive precise 2D floor plans back in under 6 hours.
Here are the answers to your most commonly asked questions, ahead of the release of this new and exciting feature.
CAPTURE
• Do I need any special equipment to capture an Encircle Floor Plan?
• Do I need to do anything to prepare the property before scanning?
• How do I capture a property with multiple levels/floors?
• How do I capture small spaces (closets, showers, attics, crawl spaces)?
• What if there are a lot of objects, furniture, or clutter in the areas I want to capture?
• Will I be able to get an accurate floor plan if I am in a low light environment?
• Will I be able to use Encircle Floor Plan if I don't have service or an internet connection?
• What device/ operating system (iPhone, iPad, Android) do I need to use Encircle Floor Plan?
• Can I use the video from my floor plan scan to capture photos, contents, or my video scope?
• Can I use Encircle Floor Plan to capture property exteriors?
• Will the scan capture framing or walls that are damaged/ have exposed studs?
DELIVERY
• How long does it take to receive my floor plan back?
• If you scan a smaller area, will your floor plan be returned faster?
• Does my time zone matter to receive my floor plan back within 6 hours?
• How accurate is Encircle Floor Plan?
• What dimensions are included with Encircle Floor Plan?
• Does Encircle Floor Plan Capture ceiling height?
• What file formats are available for Encircle Floor Plan?
• Can I use my floor plan in Xactimate?
• How do the rooms get labeled on the floor plan?
• What if I need to make an edit to my floor plan?
• Can I create individual room sketches from a floor plan?
• Can I markup/annotate the floor plan?
• Will my floor plan be automatically pulled into my Encircle reports?
• Can I get floor plans with metric or imperial measurements?
• How does Encircle Floor Plan stack up against other solutions?
HOW DO I GET IT?
• How much does Encircle Floor Plan cost?
• Do I need to be an Encircle customer to use Encircle Floor Plan?
• When will Encircle Floor Plan be available?
• How can I sign up to be a part of beta testing or to get early access?
---
---
CAPTURE
HOW DOES THE CAPTURE WORK?
Within your claim in the Encircle mobile app, orient your phone into landscape mode and start your scan. Walk the property continuously with the phone lens pointed on a downward angle toward the seams of the property (where the floor meets the wall). No need to stop in each room, no need to stop and start separate scans for each floor. As you scan, built-in user guidance will provide feedback to ensure your scan is successful (ex: "You are too close to the wall", "You are moving too quickly"), ensuring that your capture is done right every time.
We recommend that you pick a logical path through the property for the scan, ideally avoiding revisiting the same areas. Should you need to walk in the same area of the property more than once to capture the entire property scan (a hallway, for example), this will not be an issue. Our technology knows your location relative to the rest of the property, and capturing the same location more than once will not interfere with the 2D floor plan processing or creation. More specific information on proper scanning technique will be provided in the form of quick tip videos and EncircleU training when the feature is released.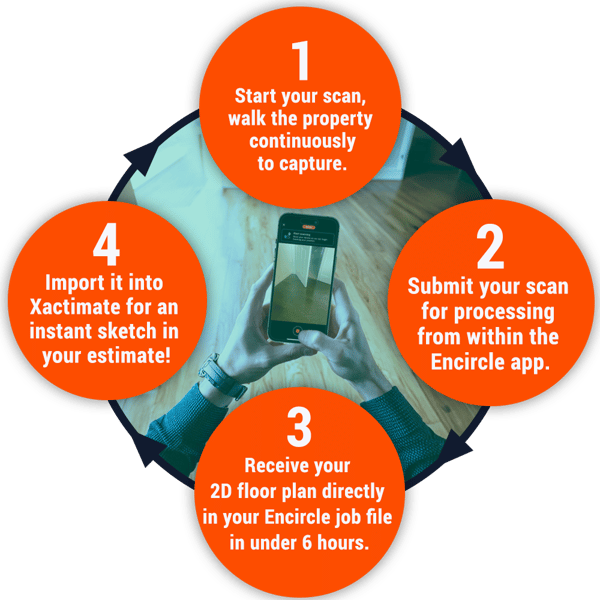 DO I NEED ANY SPECIAL EQUIPMENT TO CAPTURE AN ENCIRCLE 2D FLOOR PLAN?
No! We like to say that you only need a smartphone, two feet and a heartbeat to use Encircle Floor Plan. Anyone can capture a 2D floor plan from within the Encircle app, using the smartphone they already have. That means no additional costs for external equipment, no more worrying about where that expensive equipment, and no more waiting for your capture equipment to make its way around to all your different job sites for capture. With Encircle Floor Plan, anyone on your field team is empowered to capture a property, with the phone they already have, within an app they already use.
DO I NEED TO DO ANYTHING TO PREPARE THE PROPERTY BEFORE SCANNING?
Before you begin your scan to capture your 2D floor plan, it is best practice to ensure that all doors are open into the areas that you would like to capture, that all lights are turned on, and that all blinds or window coverings are opened, to let in as much light as possible. We recommend you do this as you are walking through the property completing your initial inspection/scope video. Should you forget to open doors before your scan, just be sure to point your camera lens away from doors as you open them, to avoid capturing the opening (or closing) of a door in your scan video.
HOW DO I CAPTURE A PROPERTY WITH MULTIPLE LEVELS/FLOORS?
To capture a property that has multiple floors, you can simply continue your scan as you walk up or down stairs between levels. Our technology will detect that you are on a different level, and the 2D floor plan will be returned with separate image files for each floor, with the stair locations represented as well. We recommend starting on the lowest level of a property and working your way up. Do not move back and forth between levels during a scan.
HOW DO I CAPTURE SMALL SPACES (CLOSETS, SHOWERS, ATTICS, CRAWL SPACES)?
To capture small spaces during a scan, ensure that you point your camera lens into those tighter areas to capture the seams of where the floor meets the wall, in all parts of the space. Be sure to point your device into the tight space for a minimum of 10-15 seconds for an accurate capture. If the space is large enough to walk in, you can walk in and then back out along the same path to avoid getting an error message that you are turning too quickly, within that tight space.
WHAT IF THERE ARE A LOT OF OBJECTS, FURNITURE, OR CLUTTER IN THE AREAS I WANT TO CAPTURE?
To capture a property with Encircle Floor Plan, you do not have to remove contents, clutter or furniture. The technology can "see through the clutter" and fill in missing information if there are areas of the room being blocked by furniture, appliances, or general clutter. However, you do need to be able to walk far enough into a space to capture where the floor meets each wall. So, for hoarder environments where you cannot get into a room, the room will need to be cleared out to a certain extent in order to capture an accurate scan.
WILL I BE ABLE TO GET AN ACCURATE FLOOR PLAN IF I AM IN A LOW LIGHT ENVIRONMENT?
Similar to existing 360 and 3D scanning solutions out there, decent lighting is important to capture an accurate scan of a property. If you are using an iPhone that has LiDAR, lighting will be less of an issue for your scans. If you are concerned about lighting for the property you want to scan, we recommend opening all blinds in the scanning area to let in as much natural light as possible. For spaces with no windows, or if you are working in the dark, we recommend using an auxiliary light, like a Lume Cube.
WILL I BE ABLE TO USE ENCIRCLE FLOOR PLAN IN OFFLINE MODE (IF I DON'T HAVE SERVICE OR INTERNET CONNECTION)?
Yes! Encircle Floor Plan will allow you to complete a scan/capture of a property, even while in Offline Mode. You will not be able to submit your scan to be processed into a floor plan until after you have regained connection. Note that since the scan video may be a large file, depending on the length of the scan, it may take longer to sync to our server compared to photos or other data you captured while offline. Your 2D floor plan will be delivered back to you within 6 hours of you submitting your scan for processing.
WHAT DEVICE/OPERATING SYSTEM (iPHONE/iPAD/ANDROID) DO I NEED TO USE ENCIRCLE FLOOR PLAN?
Encircle Floor Plan can be used on ANY iOS or Android device that meets the minimum Operating System (OS) requirements, including tablets! The minimum OS requirements are: iOS 13.4 and Android 8.0. Most, if not all, Android and iOS devices from the past 4 years will be able to meet this minimum OS requirement. However, the accuracy of your scan increases to 97% if you are using an iPhone with LiDAR (whereas 95% is our typical scan accuracy).
CAN I USE THE VIDEO FROM MY FLOOR PLAN FOR PHOTOS, CONTENTS OR MY VIDEO SCOPE?
Encircle Floor Plan captures a continuous scan focusing where floors meet walls to produce a floor plan. This scan is not intended to capture still images/photos, contents or video scopes. The other features within the Encircle app allow you to quickly and easily capture those elements for complete documentation. And because you can have multiple users in the claim at the same time you can have different people on the job site accomplishing these tasks simultaneously.
Our recommendation is to film your video scope first within Encircle while narrating your initial assessment and anticipated scope. While doing that video scope, you can be sure to leave doors open and walkways clear, so that you can ensure that you have an uninterrupted scan for your Encircle Floor Plan capture that follows. Then you would move on to capture your photos of rooms and individual contents.
CAN I USE ENCIRCLE FLOOR PLAN TO CAPTURE PROPERTY EXTERIORS?
Encircle Floor Plan is intended for interior floor plans.
WILL THE SCAN CAPTURE FRAMING OR WALLS THAT ARE DAMAGED / HAVE EXPOSED STUDS?
Yes. In our testing we have been able to produce floor plans after demolition, with damaged walls and exposed studs. While it can work with any phone, we recommend using an iPhone Pro device with LiDAR to help to ensure we can process scans with damaged or exposed studs.
DELIVERY
HOW LONG DOES IT TAKE TO RECEIVE MY FLOOR PLAN BACK?
Encircle Floor Plans will be returned directly into your Encircle claim within 6 hours or less after your scan is submitted. Getting your floor plan delivered the same day enables you to begin your estimates much faster than the typical 24-72 hour turnaround time from other solutions.
IF YOU SCAN A SMALLER AREA, WILL YOUR FLOOR PLAN BE RETURNED FASTER?
Yes. While we can only guarantee floor plans will be delivered in less than 6 hours, it is easier and faster for our solution to return smaller areas. Our testing indicates that smaller scanned areas are typically returned in a shorter time period.
DOES MY TIME ZONE MATTER TO RECEIVE MY FLOOR PLAN BACK WITHIN 6 HOURS?
Nope! No matter what time zone you are in, Encircle Floor Plans will be returned to you within 6 hours of your scan being submitted through the Encircle app.
HOW ACCURATE IS ENCIRCLE FLOOR PLAN?
Nobody's perfect, right? But we're pretty damn close. Encircle Floor Plan is 95% accurate — this is on par with competitive solutions like DocuSketch, and well within the tolerances of insurance carriers for mitigation estimates. Our accuracy increases to 97% if using an iPhone or iPad with LiDAR (iPhone 12 Pro, iPhone 13 Pro, iPhone 14 Pro, iPad Pro).
WHAT DIMENSIONS ARE INCLUDED WITH ENCIRCLE FLOOR PLAN?
Your Encircle Floor Plan will be returned with wall dimensions and room square footage. Fixed features such as doorways, windows, stairs, fireplaces, cabinets, appliances, showers and vanities will be represented visually for reference. Ceiling height is actively being worked on and will be included shortly after Encircle Floor Plan has launched.
DOES ENCIRCLE FLOOR PLAN CAPTURE CEILING HEIGHT?
We are currently working on capturing ceiling height dimensions within Encircle Floor Plan. It is currently on the road map to be added soon after launch.
WHAT FILE FORMATS ARE AVAILABLE FOR ENCIRCLE FLOOR PLAN?
Encircle Floor Plan files are delivered directly into the Encircle claim as JPEG image files. An image will be returned for each level captured. The floor plan image(s)can be easily included in an Encircle report or can be downloaded from the Encircle app to use or share within another application.
CAN I USE MY FLOOR PLAN IN XACTIMATE?
We know how important it is for you to get your floor plans into Xactimate. Currently, you can import any floor plan into Xactimate as an underlay to create a sketch in under 5 minutes. Our lightning fast delivery of your floor plan within 6 hours or less allows you to start your estimates faster than if you were waiting 24-48 hours (or more) to receive an ESX file back. We are actively working on a solution that will allow floor plans to be automatically converted into an Xactimate sketch.
HOW DO THE ROOMS GET LABELED ON THE FLOOR PLAN?
While scanning, Encircle Floor Plan uses AI predictive technology to intuitively label the room names automatically. If you would like to apply custom room labels, you can use the speech detection feature (green microphone button on the scanning screen) to dictate the room label you would like, "theater room, home office, etc." You will also be able to edit the room labels on the returned floor plan within the Encircle web app.
WHAT IF I NEED TO MAKE AN EDIT TO MY FLOOR PLAN?
Your 2D floor plan will always come out quick, crisp, and professional. Should you need to update room labels, you can do this directly within the Encircle web app.
In the unlikely case that you need to correct dimensions on your floor plan, you will be able to submit a request describing the change you need, from either the Encircle web or mobile app, and the adjusted floor plan will be reprocessed and returned to you rapidly.
CAN I CREATE INDIVIDUAL ROOM SKETCHES FROM A FLOOR PLAN?
Yes, you can use the Encircle Floor Plan tool to create individual room sketches. Users will also be able to leverage these room sketches to create moisture maps for water jobs in Encircle Hydro.
CAN I MARKUP/ANNOTATE THE FLOOR PLAN?
Yes! Once you use your floor plan to create individual room sketches or moisture maps, you can use our sketch tools to mark certain areas, enter moisture points, or place equipment.
WILL MY FLOOR PLAN BE AUTOMATICALLY PULLED INTO MY ENCIRCLE REPORTS?
Yes, the Encircle Floor Plan will be displayed in Encircle PDF reports. If you use part of the floor plan for room sketches or if you use it as a moisture map within Hydro, those will also be captured within your report, the same way sketches and moisture maps are displayed today.
CAN I GET FLOOR PLANS WITH METRIC OR IMPERIAL MEASUREMENTS?
You bet! Measurements are available in metric (meters and centimeters) or imperial (feet and inches). The floor plan will be returned with metric or imperial measurements based on your app's user preferences at the time the property was scanned.
HOW DOES ENCIRCLE FLOOR PLAN STACK UP AGAINST OTHER SOLUTIONS?
Learn more about how Encircle Floor Plan. Learn how Encircle's 2D floor plan stacks up against other solutions here.
HOW MUCH DOES ENCIRCLE FLOOR PLAN COST?
Encircle Floor Plan is priced at $29 per floor plan. We will also be offering volume discount bundles of 50 or 100 floor plans, that will get the price per floor plan even lower. Speak to your Encircle account executive about your business needs to find a pricing plan that's right for your business.
Remember that since all you need is your smartphone to capture a property, there are no additional costs to consider, like cameras or hardware. Plus, we won't charge extra fees to have your floor plan delivered back to you quickly. Our fast turnaround time is available for everyone, all the time.
You can capture an entire property up to 10,000 square feet in one scan, even across multiple floors! Should you choose to capture multiple, individual scans for one property, you will be charged for each individual floor plan scan submitted for processing.
DO I NEED TO BE AN ENCIRCLE CUSTOMER TO USE ENCIRCLE FLOOR PLAN?
Encircle Floor Plan is a feature within the Encircle field documentation platform. That means that only Encircle customers will have access to this feature. Interested in becoming an Encircle customer to get access to this feature? Book a demo for more information!
WHEN WILL ENCIRCLE FLOOR PLAN BE AVAILABLE?
We know how pumped you are for Floor Plan, and we're working hard to get it to you. We are currently in beta testing for this feature with a small group of Encircle customers. We know that technology used by restoration professionals needs to be reliable in the field. So, we will be putting this feature through extensive testing and will collect feedback to make sure it will meet your needs. We expect to have Encircle Floor Plan fully rolled out early in 2023.
Learn more about Encircle Floor Plan here!