"What if there was a way to get an accurate 2D floor plan, captured AND delivered in the same day?"
More on our new feature Encircle Floor Plan below:
Manual sketching versus 2D/3D floor plan software
These days, restoration estimates need to be bullet-proof, and insurance adjusters like to see visual representations of properties in reports to tell the story of the loss, on every claim.
This means that for every property loss, restorers must:
1) Capture accurate measurements
2) Visually represent the property
Historically, restorers have had limited options to capture and present this information, besides measuring and sketching properties by hand. But as new technology has emerged, software solutions have been created to help make capturing property measurements and creating floor plans easier, including some that provide virtual 3D tours. But whether a restorer measures and sketches by hand, exclusively uses a 2D floor plan software solution, or uses a mix of these two methods, they are still faced with pain points.
Manually measuring and sketching can be tedious, time-consuming, and vulnerable to human error.
Depending on the person doing the sketching, the result may be inconsistent, illegible, or inaccurate. Then, when you consider having to digitize the sketch in Xactimate or to include it in a digital report, the inefficiency of this method really becomes clear.
Using software to capture a property minimizes human error and ensures a consistent, professional output. Plus, certain software providers offer additional capabilities beyond creating a 2D floor plan with measurements (like the ability to create a 3D tour). But these solutions also come with their own list of downsides to be considered…
3D virtual tours are often expensive, require specific training, and take days to get delivered. 3D floor plans are not required by carriers.
Firstly, the cameras and equipment required to capture a property can be expensive. And there may also be additional fees for properties past a certain size, or to expedite the delivery of your floor plan/3D tour. While the capability to produce a virtual 3D tour is certainly impressive and nice to have for marketing purposes, it is key to remember that the only items truly needed to support your estimate are accurate measurements and a 2D floor plan. So with some of these solutions, restorers may be paying for something over and above what they really need.
Secondly, it often takes time to train a dedicated team member on said solution. New software means throwing an additional app into the mix, as well as specific (and often expensive) hardware. This learning curve means you are limited in who can perform this capture within your organization, which may lead to logistical frustrations if you have multiple jobs on the go. Since this highly trained person can't be everywhere, it leaves you reverting back to hand sketching on those smaller jobs.
And, last but certainly not least, it can often take DAYS for these software solutions to process floor plans, unless the customer is willing to pay extra to expedite the process.
What if there was a way to get accurate property measurements and a 2D floor plan captured and returned in the same day, without doing it by hand and without a huge price tag? What if it was so simple that anyone could do it with no training?
When considering capturing measurements and a sketch of an average 2,000 sq ft property, here is how Encircle Floor Plan stacks up against manually measuring and sketching and other existing software solutions: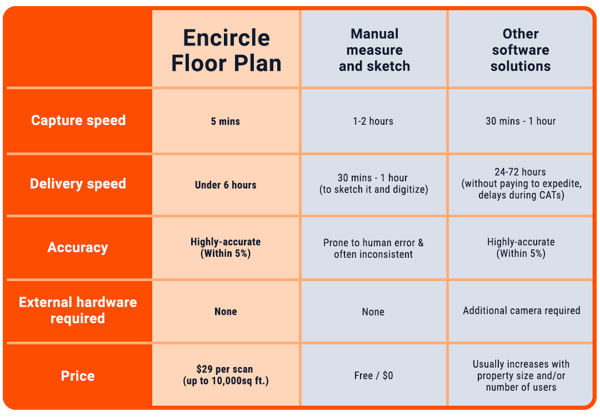 Easily scan jobs using Encircle Floor Plan, on any smartphone.
Walk through the job, while scanning the baseboards, without pausing in each room. All you need is your phone, then hit send. You'll receive a .JPEG in less than 6 hours. On average it takes about 5 minutes to scan a 2,000 square foot job.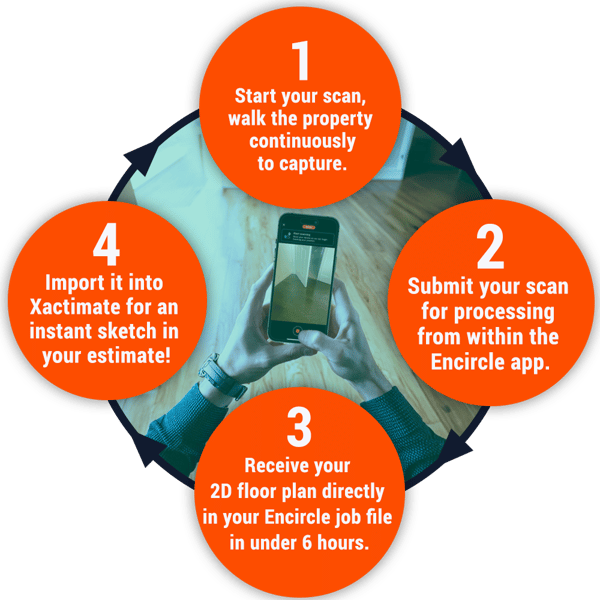 Get your floor plan with measurements back the same day.
You'll receive an accurate professional looking 2D floor plan in 90 minutes on average (always within 6 hours of submitting your scan). This is our standard turnaround time, which means there is no need to pay any extra fees to expedite the process.
And it gets even better! Encircle integrates with Verisk so that you can import your floor plan into Xactimate for an instant sketch. So you can begin your estimate on Day 1, and save hours of sketching in Xactimate.
No experience or specific training required
Two feet, a heartbeat, and a smartphone is all you need.
Any employee with a smartphone can complete a scan with Encircle Floor Plan. There is no additional hardware or cameras required, takes literally no time to set up and it is simple to operate, right within the Encircle app.
Live user guidance steers you right
Successful scans every time.
If you're worried you won't capture an accurate scan, no need. The user will receive live user guidance, which means if you're scanning too quickly, too close to a wall, or doing anything that could jeopardize the accuracy of your scan, you'll be prompted on the screen to correct it. This ensures you get a complete, accurate scan, the first time around.
Using voice annotation to label rooms
You can use your voice to label rooms, all in one shot.
While scanning, you'll be able to apply custom room labels with your voice, "kitchen, primary bedroom, etc." But if you'd rather keep it simple, Encircle Floor Plan uses AI to intuitively label them for you. Should you need to update room labels, you can do this directly within the Encircle web app. In the unlikely case that you need to correct dimensions on your 2D floor plan, you will be able to submit a request from the Encircle web or mobile apps, and the adjusted floor plan will be returned to you rapidly. So your floor plan will always come out quick, crisp, and professional.
One app for all your field documentation
The addition of Floor Plan to the Encircle field documentation platform means that restorers can use one app to capture everything they need from the field. It eliminates the need to switch back and forth between apps that accomplish one part of the job. And, you will no longer need to rely on a select few team members to be able to get measurements or sketch floor plans.
Encircle empowers every member of your field team to capture measurements, get an accurate and professional-looking floor plan for every property, take job photos and videos, make notes, create beautiful reports, and so much more. Since Encircle is designed for restoration contractors, it gives you everything you need, and you avoid paying extra for the things you don't.
What does Encircle Floor Plan cost?
One flat fee.
The cost of Encircle Floor Plan is $29 USD per floor plan, no matter the size of the job, And you can get that price even lower with volume-discount bundles.
Importing your floor plan into Xactimate for an instant sketch is an additional $10 fee, regardless of property size.
No hidden costs
Our lightning fast turnaround time of 6 hours or less means you don't need to worry about fees to expedite the delivery of your floor plan. So whether you are in a time crunch or in the middle of a CAT situation, you can count on speedy delivery at no extra cost.
No fancy gear
No need to purchase cameras and risk damaging them. Since all you need is a smartphone, there are no additional hardware costs to be considered.
More questions regarding Encircle Floor Plan? See our answers to your FAQs here.
Encircle Floor Plan


Hella

fast.


Super

simple.


Wicked accurate.


Totally

integrated.
More info about Encircle Floor Plan here.
---