The real MVPs of the restoration industry!
We knew we had to do something special to celebrate those working behind the chaotic scenes of the restoration industry—the ones keeping the wheels on the track, who might not always get enough recognition.
We'd heard some companies refer to their admin team as the "real MVPs," or "the glue," but we wanted to learn more. We kicked off an Admin Appreciation Day contest, asking the restoration industry to nominate someone in their organization who goes above and beyond, so we could let them know that their hard work does not go unnoticed.
The response was overwhelming!
We received hundreds of nominations describing incredibly hard-working individuals, "the go-tos," and all the ways they ensure their company's operations run smoothly. Whether it's guiding homeowners through a stressful situation, compiling complex and detailed information, helping train new employees, all the individuals nominated play a huge role in their organization's success.
In celebration of Administrative Professionals' Day 2022, these are this year's award winners!
---

Meet SAVANNA ST. GERMAIN
ServPro, West Knoxville
After graduating as an administrative assistant, Savanna began her career at ServPro, where she has been working for 15 years. She was nominated over 5(!!) times by various members of her organization.
Outside of work, she enjoys hanging with her husband, shooting hoops with her children, and spending time with her granddaughter.
Her colleagues describe her as "the gear that keeps the machine moving forward, never seeking praise, but deserving it more than anyone." She is the gatekeeper, making sure everything gets done properly and on time. She laughs when we tell her this, saying there are jokes around the office about staying on her good side. Her day to day involves creating estimates, assuring that proper documentation is captured, and submitting invoices for payment—though no day looks the same in this role.
It's the aspect of helping people that Savanna likes most. "We're able to help our customers during a difficult time, in their time of need. Hopefully, we can restore things like it never even happened! No job is the same. It keeps me busy and on my toes."
Her favourite part of the day is tackling monster to-do lists meticulously, eliminating any potential back and forth. "I love when everything is accurate and I send the invoice requests. That's how I know that job is done. I don't have to look back."
The hardest part? "When somebody else is not doing their job properly, it makes it harder for me. That's the worst feeling, when there's missing documentation, no pictures attached, or things not lining-up. I have to start from scratch and comb through all of it."
Savanna tells us, "I work hard. I try to do my job to the best of my ability. You either give it your all or you don't. I try to give it my all every day."
---

Meet HANNAH JOHNSON
REVITALiFE, Greenville
Hannah, who graduated in social work, describes how she became an admin professional in the restoration industry. Originally hired as a temporary employee, she recalls walking into a room with a conference table stacked with manila folders and unorganized paperwork. "I can't even describe how many papers were strewn about. I was hired to come in and organize everything, and then I just started taking on more."
Eight years later, she helps write contents and cleaning estimates, handles claims, payroll, HR, and plans fun events for her team, keeping everyone on the same page. She admits that sometimes it feels there aren't enough hours in the day—especially with two little ones at home.
The hardest part? "The inconsistency of the insurance and program work rules. Everything is constantly changing. That's the only real downside. At first I thought I'd get to the point where I'd have it memorized, but I realized it's absolutely impossible to keep up with these ever-changing requirements."
Despite this challenge, she says the job can be incredibly rewarding, recalling a time when she worked with a family whose home had been completely destroyed by a fire. The client had just recently lost her husband, and then a few short months later her entire home. Losing her home was especially painful, because it contained so many memories of her husband.
Walking through the remnants of her home, she pointed out a damaged door frame that was of particular sentimental value—her husband and her had been recording their daughters' heights on it since they were born.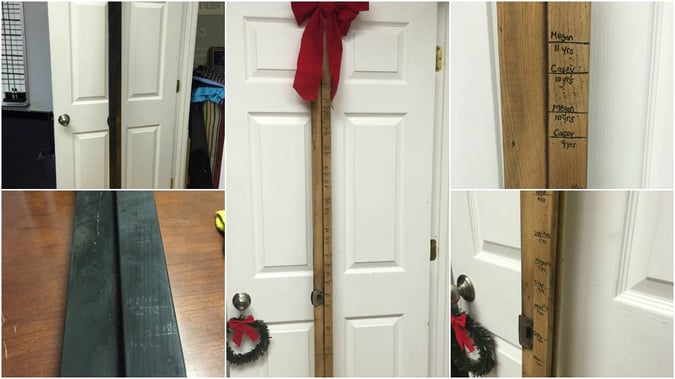 Unbeknownst to her, Hannah spent hours salvaging the door frame. At Christmas time, Hannah gave it to her, along with a newly-framed picture of her husband they had also been able to save from the property. Their families still exchange Christmas cards to this day.
---

Meet CASEY BROWN
ServPro, Chattanooga
Casey Brown, a mom of two kids and three dogs, is the longest tenured employee at ServPro, Chattanooga. Somehow, she manages to wear a million hats, speaking with customers and easing their anxiety, answering PMs' questions about carrier guidelines and procedures, and making sure all paperwork is on point.
She's also highly praised for fueling her teammates with delicious baked goods.
At work, Casey is "the go-to" about everything and everyone. In her coworker's words, "every office needs a Casey!" It surprises her to hear that her coworkers think of her this way, which only serves to shine a light on how humble she is.
For Casey, "it's the people. I'm surrounded by great people. They're like my second family. And it's something new every day. It's never boring. I'm honestly just happy to help out."
The hardest part of Casey's day? "When information I need for a file is missing, and it's insanely busy and I can't connect with the person I need. The inability to get what I needs for a file is so frustrating."
When we ask her what's typically missing, she replies, "sometimes pictures are missing, or explanations on why the restorer did what they did."
A few years ago, a month and a half after the onset of COVID-19, Casey's community experienced a devastating tornado. Thankfully, her home was spared—many others in the area weren't as fortunate—however, her family still experienced significant power outages for an extended period of time.
When most would be overwhelmed by such a series of unfortunate events, Casey immediately jumped in to help, setting up a temporary office at a hotel down the street.
Despite the chaos—with her family in tow—Casey didn't miss a beat, immediately started calling customers and working long days without complaint, eager to help others who may have been more gravely affected by the tornado.
***
From all of us at Encircle, thanks for all you do! Check out what our CEO had to say about it: