Encircle's field documentation platform helps restoration contractors prevent these issues and get paid faster.
John Postava, an expert CAT claims adjuster, wrote his article from the perspective of the insurance estimator or adjuster visiting sites and processing CAT claims. But for a restoration contractor, understanding how to avoid these key CAT claim issues yourselves may be the key to helping you get paid in full, faster.
Don't worry, overcoming these issues doesn't involve increasing your workload or time on site, because Encircle's field documentation platform has capabilities to help solve the critical CAT issues that Postava lists. Let's take a closer look…
Solving for inaccurate scoping
According to Postava's article, "The most damaging error any estimator or adjuster can make in a catastrophe claim is in the area of scoping the loss." He advises that "Estimators who take their time and have a systematic approach to their inspections usually have a better chance to record accurate scopes in catastrophe-related situations." The same logic should apply for restoration contractors documenting the loss when they arrive on-site.
Using Encircle's field documentation platform allows restorers to capture all loss information in a systematic way that mimics the way you would physically navigate a building. Your job information is organized by claim, then by structure, then by room, so that you can easily refer back to relevant documentation in the future. This type of organization encourages systematic job site inspections in line with what Postava is suggesting.
When it comes to scoping, you can leverage Encircle's video capture capability to create a video scope that walks through the job site, identify the cause of loss, resulting damages, immediate actions to be taken, and areas that need further investigation. Click the play button on the phone below to see an example of a restorer using video to scope a job.
Providing this video, combined with your narration, as part of your initial inspection report provides a common understanding of the scope of the project for all stakeholders. Click here to see a sample report that includes a video scope (on page 8).
Solving inadequate or unorganized photo capturing
Another critical CAT claim issue faced by adjusters and restorers alike is capturing good photos. Postava asserts, "One of the best ways field personnel can assist the claim examiners and expedite the claims process is to take good photos."
It isn't as simple as taking photos versus not taking photos, or increasing the number of photos you take onsite. Postava advises that similar to scoping, photos should be captured in a systematic way.
"Take clear photos, label them properly, and display them in the right order. If these things are done, claim examiners as well as anyone else viewing the photos will see the story of the estimate and ultimately the claim file."
The structure within Encircle's field documentation platform encourages this systematic approach to documenting a loss. Photos and videos are organized by room, and are date and time stampedso that they can be displayed in the order they were captured. It also indicates which Encircle user captured the photo/video for reference.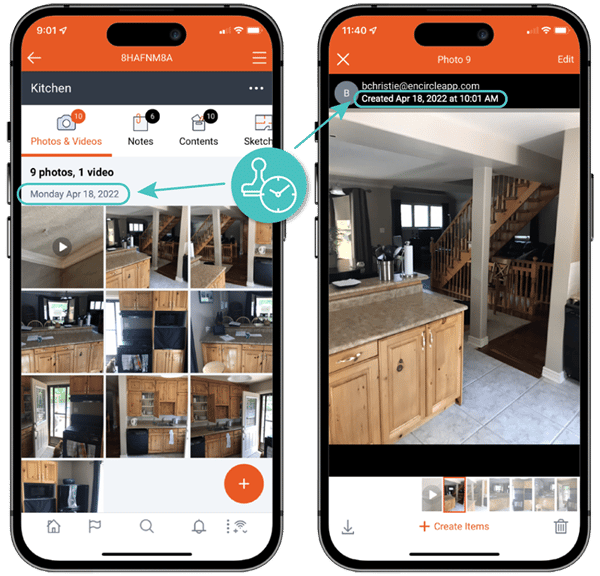 Encircle users are able to capture an unlimited number of photos and can also include photos as part of a note, ensuring that all relevant loss information can be detailed properly. All photos are automatically labeled and organized within Encircle reports to communicate the full story of a loss to an adjuster.
Solving for documentation issues
According to Postava's C&R article, "The better the story of the claim can be told through sufficient documentation, the faster the claim gets approved, and the policyholder gets paid." And one of the best ways to ensure a faster claim approval is by "Displaying the documentation in a way that makes sense to the reader of the estimate and claim file."
This just so happens to be our bread and butter at Encircle - we are the all-in-one field documentation platform, after all!
With Encircle, you can document photos, videos, notes, moisture readings, contents inventories, contacts, documents and so much more. Everything you need to get paid for your work is all documented in one central place. Plus, we have designed our mobile app to be easy for field techs to use onsite. This encourages complete and quality documentation, without being a huge disruption to their day.
Since we are talking specifically about CAT scenarios, it is important to recognize that reliable service or internet connection may not be guaranteed. Encircle has an Offline Mode to allow restoration contractors to continue to document onsite, even without an internet connection. Once connection is regained, all information captured from the connected device will sync and the claim file will be populated with the information.
Once your file is complete, you can easily assemble your documentation into a top-notch report that paints a picture of the loss with just a couple of clicks! We have designed these reports to read like a child's storybook, so that even adjusters that have not visited the loss can get an understanding as if they were onsite with you. You can learn more about how thorough reporting can protect you here.
Solving for personal property inventory issues
Another critical CAT issue discussed in Postava's C&R article centered around personal property, otherwise known as contents. This is a known area where insurance carriers commonly over or underpay policyholders. So as a restoration contractor, it is safe to assume that your documentation of contents will be subjected to a certain level of scrutiny.
As a potential solution, Postava advises estimators and adjusters to "Record as much information as possible concerning the age and condition of high-cost items, collectibles, one-of-a-kind items, and sentimental items."
Documenting a policyholder's personal property with that level of detail can easily become overwhelming and extremely time-consuming. Luckily, there's an app for that! Encircle's field documentation platform includes the ability to process contents. Encircle allows users to capture unlimited photos of personal property and enter details, descriptions and dispositions. Contents are organized within the app by the room in which they were located, and users can assign inventoried contents items to particular boxes and locations.
Encircle's real-time sync functionality allows multiple field users to log contents simultaneously, speeding up the pack-out process. As field teams document contents, office staff can be looking up replacement values from directly within Encircle's web app.
Once all items are documented, Encircle can generate interactive Excel reports that show items by room, by box, or by item disposition. Encircle also has several built-in, carrier-specific Schedule of Loss (SOL) reports available.
Postava advises that estimators and adjusters should, if possible, "Walk the loss with the policyholder for the sole purpose of inspecting and discussing their personal property." With Encircle, field staff are empowered to walk the property with the policyholder while showing what is being captured within the claim file. They are able to enter additional notes or details based on client input, eliminating any issues down the road.
In conclusion…
Reducing the frequency of critical issues experienced with CAT claims means faster cycle times, which results in faster payments for restorers, along with less pushback from adjusters. Encircle's field documentation platform empowers restorers to provide better overall documentation from the job site, including scope, photos, other forms of documentation, and personal property inventories.
Want to learn more about Encircle's field documentation platform?
Or check out these customer stories to learn more about how Encircle is used during CATs:
• Fort McMurray wildfires (Alberta)