Learn how Restoration Made Simple and Encircle are helping restoration contractors grow & become more profitable.
With over 30 years of experience in the industry, the experts at Restoration Made Simple (RMS) understand what it takes to turn a startup operation into a sustainable and profitable property restoration business. They have helped over 400 restorers grow their businesses through one-on-one consultations, online marketing assistance, employee recruiting & training, estimate writing and reviews, and much more.
While helping new owners set up and train their teams on field processes, RMS strongly recommends that their clients use the Encircle field documentation platform. RMS views Encircle as the industry leader for field documentation, allowing field teams to document everything needed from a job site quickly and efficiently, resulting in more accurate estimates, increased average job payments, and reduced adjuster pushback.
THE CHALLENGE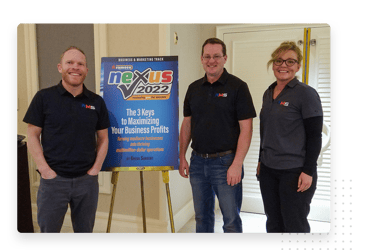 RMS owners Gregg Sargent and Nate Cisney have seen (and experienced) it all, when it comes to running a property restoration business. And while there are a number of unique challenges that restoration business owners face, one common problem that they see repeatedly with their clients — and they have experienced themselves — is a lack of job documentation.
Before he began consulting, Greg owned a property restoration business. He remembers the frustration of his techs having to use 5 different apps in the field in order to document the information they needed. Going the 'simple' route and using pen and paper didn't work either, presenting its own challenges: "If [field techs] wrote their notes on paper, those papers got lost or they'd decide to wait to fill them out when they were back at the office, and they would forget a lot of things," he reflected.
But despite these challenges, he understands the importance of job documentation, especially when looking to grow profits at the early stages of a property restoration business. "There's a direct correlation between how much restorers get paid, how quickly they get paid, and their documentation," stated Sargent.
Partner Nate Cisney experienced similar challenges in his previous roles:
"We need one tool that does it all in this industry... It's very discombobulated. Our techs have to use three different apps on every single job they go to. If you ask any business owner and any tech, they hate it… because you're adding an extra half hour to an hour of documentation on every single job. As an owner, time is money." — Nate Cisney, Partner, Restoration Made Simple
Now Nate heads up the estimate writing and reviewing side of RMS, helping clients ensure they are billing for every possible detail, so they can get paid fairly and keep profit margins healthy. But without detailed job documentation, it would be near impossible for him and his team to fully understand the scope of his clients' jobs. "Without that documentation, it makes it really hard for us to write the estimate," commented Cisney.
THE SOLUTION
Sargent discovered Encircle's field documentation platform around 5 years ago, and has been strongly recommending it to all RMS clients ever since. Having clients use one app to document photos, videos, notes, moisture maps, moisture readings, equipment calculations, sketches, e-signatures, and more, has simplified what used to be a tedious process and source of frustration for restoration technicians.
Because Encircle is designed to be used in the field, the information is organized the same way you would navigate a physical job site. This makes for easier training and onboarding. Sargent described, "What we try to instill in our owners and our technicians, is that they need to be using Encircle on site. While they're standing in front of that room, they can punch in any details they need, right there in the app."
Detailed documentation collected right from the source allows for more accurate and timely estimates, and ultimately higher margins on jobs. "How good of an estimate gets written… and how quickly it can be written, has everything to do with the documentation… That quality jumps way up with Encircle," Sargent stated.
Encircle also takes all of the information collected from the field and creates organized and detailed reports with just a few clicks. This makes a world of difference for estimators looking to understand the scope of the loss, and prevents them from having to look at multiple sources for the information they need. "Encircle putting everything into one document is a huge benefit for us. For my estimate writers, they just get one attachment instead of five or six or seven… they don't have to use multiple monitors. They get one document, and it's got everything," raved Cisney.
Sargent and Cisney are also excited (like many other restorers) about the most recent addition to the Encircle platform — Floor Plan. This feature allows anyone in the field to quickly capture a property with a continuous video scan from their smartphone, and receive an accurate, 2D floor plan back in less than 6 hours. Providing this ability directly within the platform where restorers collect almost all other crucial field details is extremely valuable, essentially creating a one-stop-shop:
"The beautiful thing about Encircle, with the addition of Floor Plan, is that it's kind of all inclusive now. The convenience of that for owners and technicians is absolutely huge, " Cisney commented.
Being able to use just one app in the field reduces the burden on field techs to constantly remember what gets documented where, and prevents them from having to switch between different programs, saving time.
"The floor plan capability is an added benefit, because field techs were always having to use something else like Docusketch or Matterport in addition to job documentation tools. Now there's only one platform to learn — it makes our clients smile," added Sargent.
THE RESULT
The strategies that Sargent and Cisney teach their clients, combined with the documentation power of Encircle, empowers RMS clients to earn higher margins on jobs and retain more profits for their property restoration businesses. "We teach them how to do all the services they need to do, and correctly bill for them. With [the Encircle] documentation app, we have the necessary justification for the estimates, and clients are typically able to invoice between $500 to $1,500 more per claim," stated Sargent.
For example, RMS recently helped one of their clients quadruple (4x) their net profit on a Managed Repair Network job. And because this increase in net profit was justified with thorough documentation and legitimate billing strategies, it did not add any tension to the relationships between the TPA, carrier and their client.
With Encircle enabling their clients to collect better field documentation, Sargent and Cisney have been able to hone in on helping restorers with every other aspect of their business as well. They offer services ranging from marketing assistance (increasing leads and job volume), to recruiting and training staff, to creating field processes, all the way to estimate writing and reviewing services (maximizing profits on each job), and more!
"From the estimate-writing side… the difference between somebody having Encircle and not having it, is absolutely huge. It's so much easier for us to write a detailed estimate because Encircle put something together that tells the story of the job for us," explained Cisney.
Unlike many consultancy firms, RMS does not simply provide advice or help crunch numbers. They take a more hands on approach — actively getting out into the field with their clients, helping them build better teams, and setting them up for long-term success. And their clients see great value in this approach:
"I just attended Restoration Made Simple's new boot camp class and it was an amazing experience! We had techs on our team with all types of experience levels, which was great because we learned different techniques for documentation, taking photos and equipment setup. I also learned how to implement Encircle for documentation. I would highly recommend this to any owner or tech who wants to learn the correct way to start the mitigation process. Just take the class!" — Jeff M
(read more reviews from RMS clients here)
CONCLUSION
The team at RMS know the challenges of running property restoration businesses first hand, and use their expertise to get more restorers on the path to high profits and expansion. With no long-term commitment required, they offer all restorers a free consultation, as well as 2-4 complimentary invoice reviews, to demonstrate their value.
Owning and operating a property restoration business is no easy task. But with the help of industry experts from Restoration Made Simple and powerful tools like Encircle, restorers can earn a higher margin on each job.
Find out how RMS can help to take your property restoration business to the next level.

Find out how documenting with Encircle can help you become more profitable.