Learn how Speedy Restore writes day 1 estimates with Encircle Floor Plan
Speedy Restore is on a mission to provide the ultimate level of service to their clients. One way they achieve this is by documenting and organizing all field data within the Encircle field documentation platform. So when Encircle began rolling out access to their new feature, Encircle Floor Plan, Speedy Restore CEO John Kilinski was eager to try it out.
THE CHALLENGE
For the last few years, Kilinski and his Project Manager, Matt Folb, have been using subcontractors from the Coalition of Disaster Responders to work through high job volumes as needed. But with the increasing volume of CATs within their service area, most recently Hurricane Ian, Kilinski has expanded his company to 10 employees to meet the increased demand.

Kilinski and Folb started to realize that their tools for visualizing properties were creating inefficiencies in their operation. The 3D technology they were using required an extensive amount of training, expensive equipment, and had a very time-consuming capture process. Then it would take days - even weeks sometimes - to receive a floor plan back, which prevented Speedy Restore from starting their estimates in a timely fashion.

"With other solutions, there's a lot of time wasted trying to rescan or the platform freezes up... It's a pain and it just pushes everything else back. We have a lot of clients, and they want their properties done as soon as possible," commented Kilinski.

They realized that the only thing they truly needed to get their estimates started was an accurate 2D sketch or floor plan, along with supporting photo and/or video documentation.

"3D imaging has its place and purpose, especially for our bigger clients who own properties all over the US, to be able to share that with their clientele... But for the most part, when we're restoring and more importantly, doing our rebuild, we just need a sketch quickly…Because we're documenting the heck out of our claims anyway. I mean, we take well over 800 to 1,000 photos on most claims."
THE SOLUTION
Kilinski and Folb each took Encircle Floor Plan for a test drive on drastically different properties:

"I was blown away at how quickly we were able to capture a property," Kilinski raved. "The first property I did was only a 1,450 square foot townhouse, but it had a rounded stairwell that went straight up. The scan took me 3 mins, 10 seconds…That same property would have taken easily 45 mins to 1 hour to [capture with that other solution], just because of the stairwell."

He was equally as impressed with the speed and quality of the returned floor plan, commenting, "It was processed and in the Encircle app within 1 hour, 10 mins. When I saw that it was precise to what I had just scanned, the fact that I can have anybody scan a property in minutes, and that we don't have to wait 24 hours to get it back, or pay for a rush job… it's a no-brainer."

Meanwhile, Folb decided to test out Encircle Floor Plan on a larger job, to see if he could save time versus sketching by hand or using 3D technology. "I had a 7,500 ft², 3-story property that previously would have taken 3.5 to 4 hours to capture…It had 5 bedrooms, 3 offices, 4 and a half bathrooms… the sketch would have taken forever," Folb stated.
He had some doubts that Encircle Floor Plan could capture the complexities of the property, especially because it was after hours and he was working with limited lighting. "It took me about 15 or 20 minutes to scan…It guided me through, prompting me with warnings or telling me if the area was too dark."

The floor plan was returned in 4.5 hours, with precise dimensions and all the unique details of the property properly represented (see images below). "I was worried about if it was gonna come through, but when I got it back that night, it was so exact. It was just such a time saver," recalled Folb.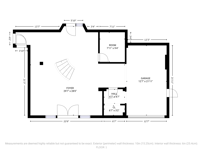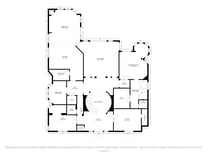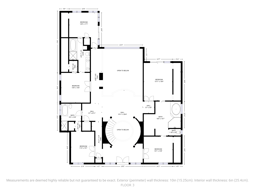 THE RESULT
By using Encircle Floor Plan for their sketches, Speedy Restore has experienced numerous benefits to their business. The time saved by the simple capture method allows their field teams to focus on restoring properties, and take on more jobs overall. Plus, the fast floor plan turnaround time lets them start their estimates on day 1, instead waiting days for their floor plan from other solutions.
"Encircle Floor Plan solidifies us being able to restore people's properties as fast as possible…It creates the floor plan within hours compared to days, and helps us with our workflow 100%... What used to take 1 to 1.5 weeks of processing to get estimates out, now we can turn estimates around in 24 to 48 hours max."
- John Kilinski, CEO, Speedy Restore
Folb also noted that Encircle Floor Plan provides immediate feedback while scanning to increase the accuracy and quality of the property capture. "The phone will literally tell you what you're doing wrong", he explained. The review screen shows when warnings were issued during your scan video. "It's not like [other solutions] where if you have a crappy scan you have to process it and then wait 2 days to find out if it turned out OK…That's where Encircle Floor Plan really saves you the time of doing it twice."
Fast and accurate floor plans helps Speedy Restore with their mission to deliver a superior level of service. "It helps us with the presentation of our reporting that we give to the insurance company or the client," commented Kilinski. "It presents very well with our clients, being able to manipulate those floor plans. Even when we're doing a rebuild and we need an electrical plan where we want different things added…I mean it, it's endless as far as the usage that we can have from this."
CONCLUSION
Kilinski and Folb are thrilled with the amount of time they are saving with Encircle Floor Plan - both in capturing the property and receiving the floor plan back. They believe that having an accurate, simpler, and faster solution to visualize properties will set Speedy Restore up for even more success in the future.

Kilinski is still looking to add a few more full-time staff members to his team. "I'm not looking to be the biggest and baddest, just looking to maintain and grow comfortably to what we want to handle," he remarked. "We have national clients between Washington DC, over to Texas, down here in Florida and everything in between. That seems to be the footprint that we're comfortable working in, and being able to respond to more importantly."
Speedy Restore has purchased a 100 floor plan pack from Encircle, which provides them with $9 of cost savings for each floor plan created (versus the pay-as-you-go price). A wise choice, given that they plan to use Encircle Floor Plan on more than 75% of their jobs.
Book a demo today to find out how Encircle Floor Plan can take your field documentation to the next level.