Evan MacFawn, Senior Vice President at MacFawn Fire & Flood Restoration, oversees the day-to-day operations of the business. He has shared some valuable insight into his journey with restoration technician turnover and training challenges.
THE CHALLENGE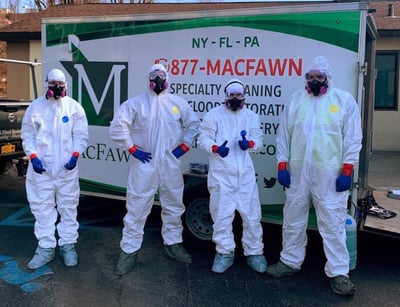 Turnover in the restoration industry
Turnover — no company wants to deal with it, but it's an unfortunate reality, especially in the restoration industry. 2022 industry surveys have highlighted that recruiting and retaining quality staff is the number one challenge that restorers face.
This reality is no different for MacFawn Fire & Flood Restoration, a full service restoration company with 30 employees, operating out of multiple locations across the US. "In our industry, 18 months is average for a field technician," states Evan MacFawn, Senior Vice President of MacFawn Fire & Flood Restoration. "After the one year mark, 75% of them don't stick around, which stinks."
This is due to the challenging nature of the job, which can include difficult biohazard and trauma cleanups as well as tough on-call schedules. "In our interview process, we talk about how we do decomp, murder-suicide, and sewage cleanups. But people don't really register that until they are on-site, and there are a lot of emotions that can pop up."
It isn't surprising, then, that many restoration technicians may leave the industry quickly, realizing it wasn't the right career path for them. But this leaves companies like MacFawn Fire & Flood Restoration with the burden of recruiting and onboarding more staff in a constant cycle of déjà vu.
More turnover = more restoration technician training
Evan explained that it became a huge pain point in the operation of MacFawn Fire & Flood Restoration. "The onboarding process was a crapshoot. We only had time for one to two days of onboarding. And then it was pretty much — throw them in a truck and go after it! They would just learn as they went. It was trial by fire for the longest time." This approach caused their new restoration technicians to end up with inconsistent knowledge and processes compared with more tenured employees. And it resulted in staff operating and documenting their work in different ways, making it more difficult to share information, both internally and externally.
Evan knew that they needed a property restoration software to help them drive consistency across their field teams. But the property restoration software also had to be easy to learn, and easy to use in the field, to help ease the burden of constantly training new field technicians.
THE SOLUTION
MacFawn Fire & Flood Restoration introduced Encircle into their organization, replacing two other property restoration software systems they had been using previously. This change ensured that all field staff were documenting their work in the same way, in one system where everyone could access the information easily. "It works across the board for everything — water, fire, mold, biohazard. All the needed documentation, Encircle just makes it easy," commented Evan.
Focused field technician training
When it comes to training and onboarding efforts, "Encircle gave us something to fixate on," Evan says. "Because we need everyone, not just crew chiefs, to understand how to document in Encircle, how to generate a report, and how to get work authorizations signed." He started to focus on developing consistency amongst all of his employee training, ensuring that there are no one-offs. "We developed an onboarding program, that I lead, so that they understand how we do the work, how we utilize Encircle, and how we communicate with customers," Evan explained.
An app made for restoration field technicians
Once the restoration technicians are finished training, they're sent out into the field to start restoring and documenting. Between the highly-focused onboarding process and the technician-friendly design of Encircle's property restoration software, they are set up for success. "On the technician side, it's super user friendly. They love using it — it's easy to use, and easy to navigate." Evan notes that Encircle's property restoration software is especially easy for new young restoration technicians to use, despite their inexperience in the role. "They pick it up quick, especially young kids in this industry. You're hiring 20, 22, 25 year olds all the time, and they pick it up just like that."
THE RESULT
Building a foundation for future success
Encircle provided MacFawn Fire & Flood Restoration with consistency and efficiency not only in the field, but also with onboarding new staff. Using Encircle provides them with a foundational structure to their training, so that their restoration technicians all learn how to use the property restoration software and by extension they work in the same way.
"When everyone's doing it the same way, when someone new jumps onboard, it's not 'well this is how I like to do it.' No, this is how we do it." — Evan MacFawn, Senior Vice President, MacFawn Fire & Flood Restoration
Providing new hires with knowledge of how to operate before even setting a foot on site also ensures that restoration technicians are doing their jobs properly from the get-go.
Additional benefits from Encircle's field documentation solution
Their efficient and repeatable process for onboarding new field technicians saves them time, effort, and resources. "If you can train people quicker with a decent level of understanding of how you do things, it's just easier to get new people in," Evan stated. "Productivity is going up, it's easier to get photos, easier to get documents. No one can say 'I didn't have a paper document to get signed,' because it's digitally in the app, and it's really easy to do."
Evan went on to explain that MacFawn Fire & Flood Restoration has also seen a decrease in adjuster pushback since implementing Encircle's property restoration software into their operation. "On the carrier side, we get less pushback because we build a big final report with the Encircle PDF report. It includes all the moisture readings, drying logs, photos, videos, notes, everything from the day we got there all the way through until the end."
So while there may not be an easy, short-term solution to prevent turnover in the restoration industry, MacFawn Fire & Flood Restoration has proven it is possible to use technology to ease your onboarding burden, and gain some other added benefits along the way.
Learn more about tackling the labor shortage for restorers.
Did you know that Encircle also offers free online learning modules for customers? Click here to learn more about EncircleU.