90%(!!!) of companies rate finding employees as number one challenge
With the employment market more competitive than ever, today's workers are even more driven to secure fair compensation and a work/life balance.
The restoration industry is no exception. In fact, a recent report from Cleanfax indicates that recruiting and retaining quality staff is the number one challenge for restorers.
Having to deal with constant turnover can affect many facets of the business, between morale, the struggle of getting new hires up to speed...the list goes on.
As part of the 2022 Restorer's Playbook, we spoke with restoration experts on how they built quality teams to propel their business.
Jackie Carpenter
Chief Executive Officer, Ideal Inc.
Phillip Rosebrook
President, Business Mentors, CR
Mike McCabe
Profit Detective, Business Development Associates Inc.

1. Approach recruitment with the same hunger you have for business development
You need to be aggressive. "If you like somebody, get them an offer letter that day. Speed works well. Even if we can't fully vet them, we put an offer letter out, pending compliance checks," says Jackie Carpenter, Owner and CEO of San Francisco's Ideal Restoration Inc., proudly serving the bay area for 50+ years.
Carpenter treats recruiting like sales: moving the candidate through a structured process quickly, prioritizing scheduling interviews, and closing fast. On average, she says her team is getting offers out in a day or two.
If it's a referral, she compensates the current employee and extends the new hire a signing bonus.
But competitive compensation is not always enough. Think company culture, upward mobility, strong onboarding, competitive benefits, and more.
2. Look for good character and customer service experience
Phillip Rosebrook, CR, President, Business Mentors says, "when you're in a tight labor market, the people you want are not answering ads, they're busy working. You're gonna have to find them, you're gonna have to be creative. It has to be a function of your business."
In other words, "start handing out business cards to anybody you come across that's hustling at their job. Because it's a free interview."
Experienced techs are diamonds in the rough. So instead, take chances on people who are hardworking, eager to learn, and have experience in customer service. Make sure you've got a lot of lines in the water.
3. Invest in your employees and provide proper training
It goes without saying that you need to pay them accordingly, because if the choice is either crawling around in sewage for 15 bucks an hour versus flipping burgers, the decision isn't hard to make.
"We need to be paying our blue collar workers more—they're the frontline, waking up at 2 am to deal with someone else's sh!t all night and get the job done," says Carpenter.
Aside from wages, there are other ways to invest in your employees. For example, Carpenter's company helps their employees pay for their education—even if it's not related to restoration— knowing that one day they'll leave Ideal to seek a job in their respective field.
You need to accept the fact that someone might not work for you forever.
There is a shelf life of these positions. This is hard physical work. "These days we're happy to have somebody from one or two years. I mean, that's strange to say nowadays, but that's a win for us," she acknowledges.
And the data reinforces that. In 2021, 45% of restorers' average tenure was only 1-3 years.
For those that do want to stay on, help them see a career path. Highlight a career path that's visible and attainable for anyone. Make sure it's known that even if they come in with zero experience, they can still have a great career within a few years.
Of course this is only possible if you provide them with proper training.
Unfortunately, due to the high turnover rate, some businesses are less keen to properly train their employees, thinking it's a waste of time, since they'll leave shortly anyways.
But Rosebrook disagrees, "people who say that they don't want to train their future competitors…well they're gonna be your competitors when they leave because you didn't train them!"
And Carpenter is with him, "are they a fit or not? Because if you find yourself angry that you're invested in someone that you don't think it's a good fit, you should have churned them out earlier. If you don't feel positive about the dollars you're investing in your team, there's something wrong."
4. Look at your business from an outside perspective
Mike McCabe, formerly 19 years operating a Paul Davis franchise before mentoring 60+ locations as the National Ops Manager, thinks management teams should take a good hard look at themselves.
Does your company look like somewhere people would want to work? Spend most of their weekly time? Will they feel like they're a part of something?
"I encourage management to develop their employee brand alongside their marketing one. Dedicate time to marketing to potential employees as you would for new customers."
You've got to make your business look attractive. And don't be afraid to evoke the element of human compassion in recruiting. Don't diminish the fact that restorers help people.
"Remind your staff of the value they're bringing to peoples' lives," McCabe suggests.
5. Culture is still key
Though this industry is 24/7/365, there are still ways you can inject elements of flexibility in your employees' day-to-day. Time with their families is important. Are there options in scheduling so that they can make it to their kid's soccer game? Are families included in company events?
How can you provide more money?
More freedom?
More autonomy?
McCabe suggests taking regular pulse checks, surveying your team, and constantly striving to improve the work environment that you're providing. Interview your top performers to see what makes them tick.
And…CELEBRATE THE WINS
If you're not having monthly company meetings that focus on the positives, you're missing an opportunity.
What is it that your company stands for?
How do you celebrate?
How do you communicate wins to the entire team?
These are things that need to be clearly identified. Everybody's got to be on the same page. And remember, parting ways with morale-killing, or underperforming employees is still part of a retention strategy, so that you don't lose your solid performers.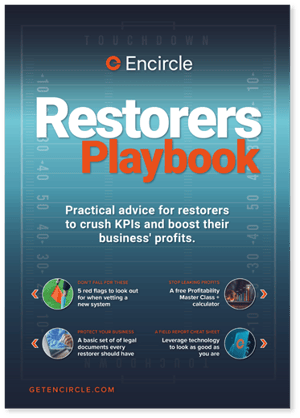 Download the full
2022 Restorer's Playbook
Learn 14 restoration experts' perspectives on other challenges that the industry faces, like program work, technical training, and technology.