Platinum Pro-Claim Restoration (PPCR) started with a mission to reduce their impact on the planet.

Today, the "greenest" restoration company in Canada is seeing the benefits of their efforts in ways they never expected, including their bottom line.
HOW IT STARTED
PPCR and its parent organization, The Pro-Claim Group, saw an opportunity in 2015 when they moved their operations to a larger facility in Richmond, British Columbia, Canada. Their founder's passion for the environment, combined with rising energy consumption (and costs), prompted them to look at ways to reduce their carbon footprint and become a more sustainable company.
ESTABLISHING A BASELINE
In 2016, PPCR worked with Climate Smart and learned that the top three contributors to their carbon footprint, in order, were:
Transportation
Waste & Disposal
Facility Energy Consumption
FIRST STEPS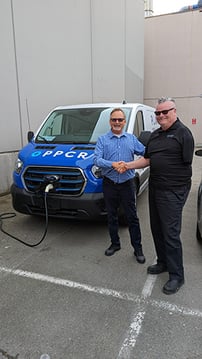 PPCR took action to reduce their carbon output in each of these identified areas. On the recommendation of BC Hydro, they changed over their facility lighting from metal halide to LED motion sensing lights. They started to replace internal combustion engine vehicles with electric vehicles (EVs), installing two chargers onsite.To decrease the amount of waste they were sending to the landfill, they added three individual bins onsite for wood, drywall, and metal.
WHERE ENCIRCLE COMES IN
Encircle helps PPCR to reduce the manual measuring and reporting of their sustainability initiatives.
"Software has to come in and help drive this even further, [and] relieve some of the burden of the back end."

-LELAND GUTTRIDGE, GENERAL MANAGER, PPCR
Having their field staff document their work in Encircle gives PPCR insight into the important metrics they want to capture, including the amount of waste removed from a job site and the energy consumed during a drying job. Additionally, custom forms within Encircle allow PPCR to create reports that focus on sustainability metrics. These can be shared with a customer, or with insurance carriers who are concerned with the environmental impact of property losses.

Interested in seeing how Encircle can reduce time spent measuring data manually?


CONTINUED EFFORTS
Since 2016, PPCR has sought out government programs and funding, partnered with environmental organizations, and also formed an employee-led "Green Team" to propose and implement new ideas for how to make the company more sustainable.
"We've taken a holistic approach that it's not just one switch you flip. It's not just five or six steps you take. It's layering on different programs as you see success."

-JAMIE MADILL, CFO & DIRECTOR OF SUSTAINABILITY,
PRO-CLAIM GROUP
Today, they have 22 waste and disposal streams and 17 EV chargers, which are open for public use, at their Richmond facility. And they surpassed their goal of 25% EVs in their fleet one year early.


RESULTS

Overall, PPCR has drastically reduced their carbon footprint. They reduced their transportation emissions by 25% overall and have diverted a remarkable amount of waste away from landfills to recycling centers. In one year alone, their volume of debris sent to the landfill was reduced by 76%–equating to 2,300 cubic yards of debris.
PPCR realizes that the benefits of their efforts go beyond the environment. They have seen significant financial benefit and return on investment for their sustainability initiatives, and they also have a significant advantage with the recruitment and retention of employees.
WHAT'S NEXT?
PPCR and its parent organization, The Pro-Claim Group, are looking beyond their own business operations to help other restoration contractors to take steps towards increased sustainability.
They are already seeing large insurance carriers taking on their own sustainability initiatives and PPCR predicts that documentation and reporting of sustainability metrics will soon become required practice for contractors performing carrier program work. This will include documentation to show how much waste was diverted from a landfill and how much energy was used on the job, including fuel used for transport to and from the job site, at an individual claim level. When asked about the future, Madill had this to say:
"It's our stated goal and vision to elevate our entire industry through these efforts, and also to use collaboration as the replacement for competition so we can all change the world together, rather than try and do it individually."
Learn more about the unexpected benefits of PPCR's journey and why RCs should care about sustainability.