Nicole and Matt Stone opened their Rytech franchise in 2015, proudly serving Ventura County in Southern California with a team of 10+ employees.

THE CHALLENGE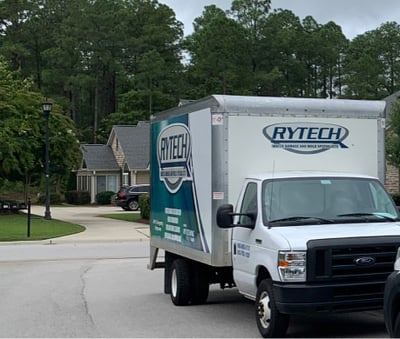 "Contents work can be a daunting task," says Nicole. "A lot of franchise owners are apprehensive about the mountains of data entry that can make this type of work so cumbersome."
Operating a contents division efficiently, while maintaining quality margins isn't easy, "it can be an overwhelming task if you've never done it before, taking responsibility for people's entire belongings, while risking being blamed for pre-existing damage."
Though a lot of restorers shy away from contents work in favour of mitigation, Nicole maintains that if you do it right—if you have an efficient process and the right tools in place—there is a lot of money to be made.
"Speed, accuracy, and efficiency go hand-in-hand with profitability in the world of contents," she states. "Especially when you invoice by box count, it's about getting the team in and out as fast as possible. People standing still, tapping excessively on their phones or writing by hand slows us down and reduces our ability to take on more jobs."
Without the right documentation tool to help tackle the data-intensive nature of this kind of work, Nicole found that a lot of time was wasted on paperwork, "before Encircle, a full inventory report could take me the better part of an entire day to complete."
THE SOLUTION
When they decided to adopt Encircle as their contents pack-out inventory software, it was a game-changer. "Encircle was like an 'aha!' moment for us," Nicole explains. "Using Encircle for our documentation, we're making more money on pack-outs and contents evaluations. The software never freezes and we never lose any data."
Nicole explains how the mobile app allows her teams to work at greater speeds in the field because it's so easy to use. The data captured in the field syncs immediately to the office, so on the administrative side, there's never any waiting around to be able to start working.
Adjusters routinely compliment the quality of her reports. Plus, she appreciates the ability to take clear photos, work without an internet connection, create digital notes, and voice-to-text abilities.
In times where pre-existing damage is questioned, Encircle offers peace of mind and serves as proof that they were not responsible for the damage in question. "I can document all pre-existing damage so well. It saves us all the time like crazy. Recently, we were accused of damaging the insured's refrigerator, but we had documentation that the damage was already there. It's fantastic to be able to back us up with a time-stamped picture."
THE RESULT
Nicole estimates an average contents job for her company to be between $15,000 - $20,000k. She notes that Encircle increases her company's profitability by 20%.
"We use it daily and it's worth every penny. Encircle has increased my profitability on contents jobs by 20%. Adjusters look at the report, comment on how amazing it is, and hand over the cheque—no questions asked."
Nicole adds, "we perform the same labour as before, but on an average job of $20,000 - we are now easily justifying another $4,000 in billable services, and receiving it."
After providing Encircle reports for her work, Nicole found repeat clients sought after her, desiring her detailed and transparent reports. She is now booked months in advance at times, "clients want us, and are willing to wait," says Nicole.
As far as her team is concerned, they love having all the info they need in one convenient place. They can access contact and claim information, and anything else they could possibly need, "they don't have to go to several different apps to get their information. It's a one-stop-shop at their fingertips, all while they're on the go."
"We're really big on simplicity and transparency, and that's exactly what Encircle offers."
Learn more about how you can add profits to your packouts with Encircle.