RESTORATION FIELD TEAMS
One mobile app for
complete job documentation.
With an app that actually works in the field, documentation won't disrupt your day and you can get on with the real restoration work.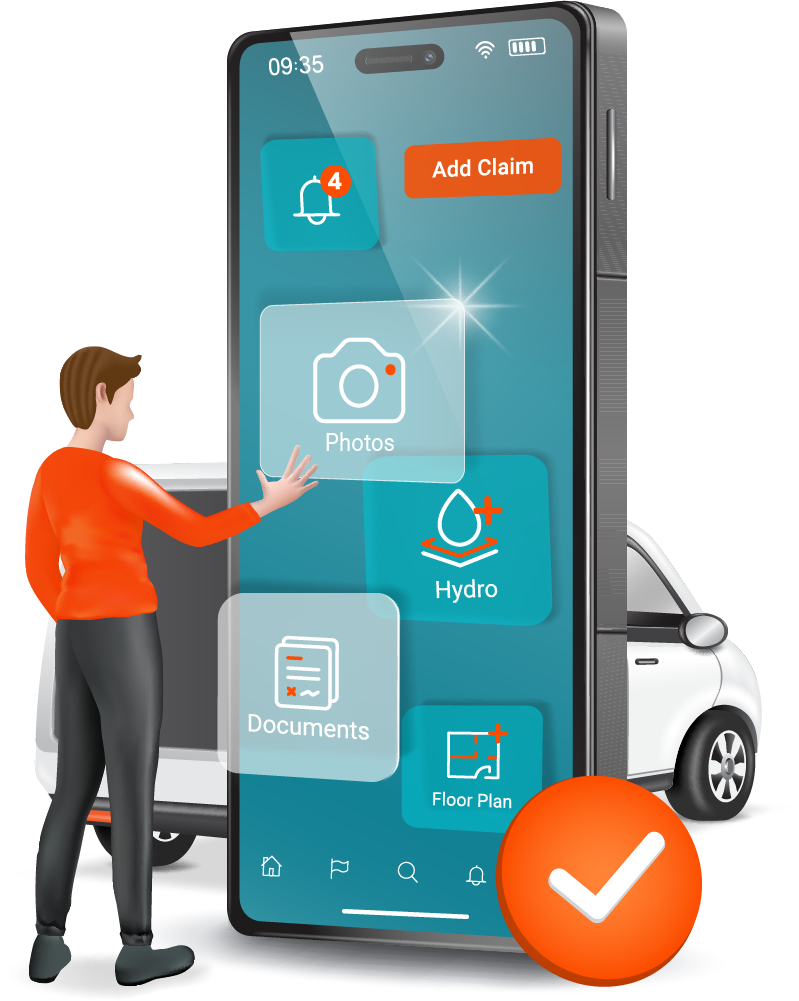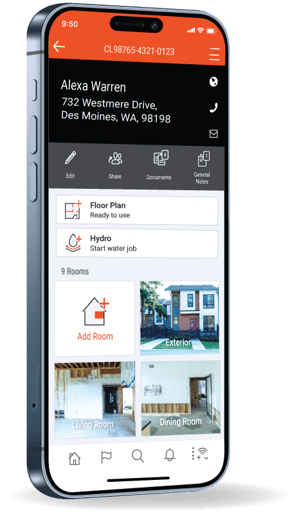 You didn't sign up to do paperwork, right?
Restoration work is hard enough, without having to juggle multiple apps to document everything you're doing. Encircle makes documenting fast and easy, so you can get back to focusing on what's most important - restoring properties (and lives) back to normal.
Documentation for any field situation.
Water damage
Capture critical water job details in a simple and guided workflow. Show the drying plan, monitor progress, get alerts and guidance if things are going off track, and justify the work with
Encircle Hydro
.
Fire and smoke
Tell the story of a fire loss from initial site inspection through to rebuild, within one Encircle file. Leverage features like
video walkthrough
,
Encircle Floor Plan
, and
reports
to get all parties on the same page.
Mold remediation
Meet regulatory standards for mold jobs with
custom forms
and consistent processes. Document every detail and keep all parties up-to-date with
fast and easy reports
.
Contents
Save days in the field inventorying and packing out personal property. Contents managers operate more efficiently with Encircle's simple and repeatable
contents workflow.
Biohazard cleanup
Catastrophes
Dispersed teams and high job volumes after CATs require
technology that keeps you connected
and in-the-know. Amidst the chaos, Encircle delivers reliability in these extreme situations.
Documenting the job just got easier.
Capture everything.
Capture unlimited field documentation - Photos, videos, notes, floor plans, moisture maps, moisture readings, contents inventories, document signatures and more. It all gets stored within the Encircle app, so it won't take up space on your phone.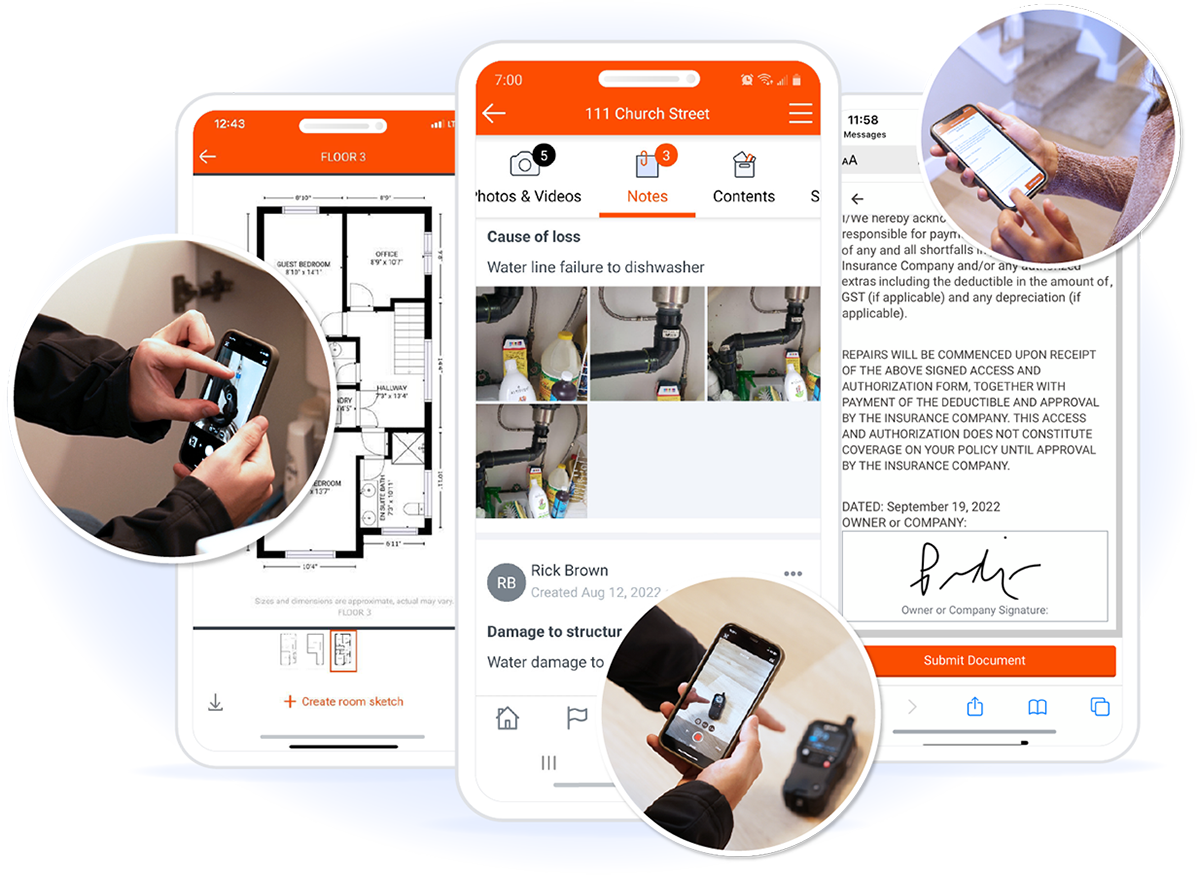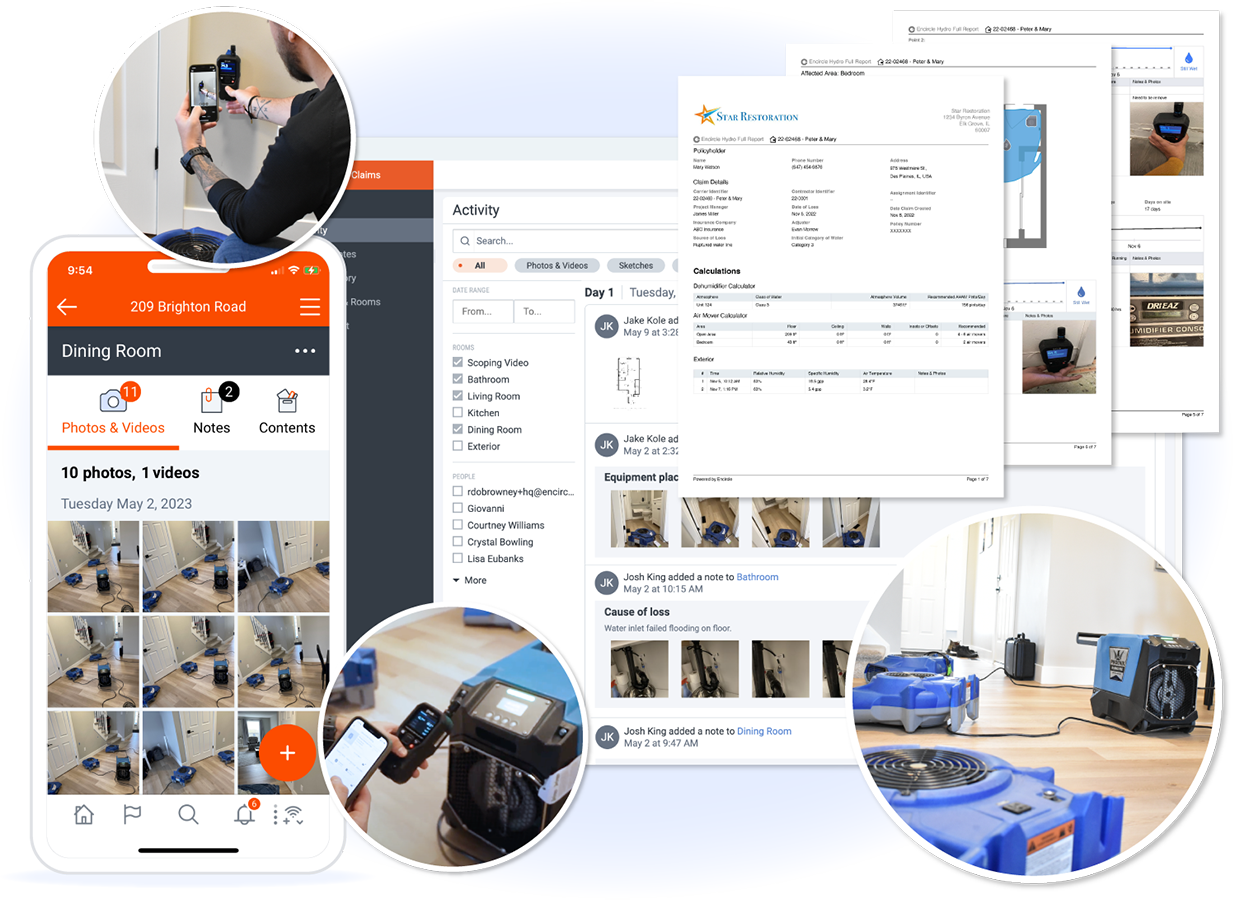 Whenever & wherever disaster strikes.
Whether you're knee-deep in a sewage backup at 2 AM or cleaning up after a hurricane, Encircle works in any field situation - even without an internet connection.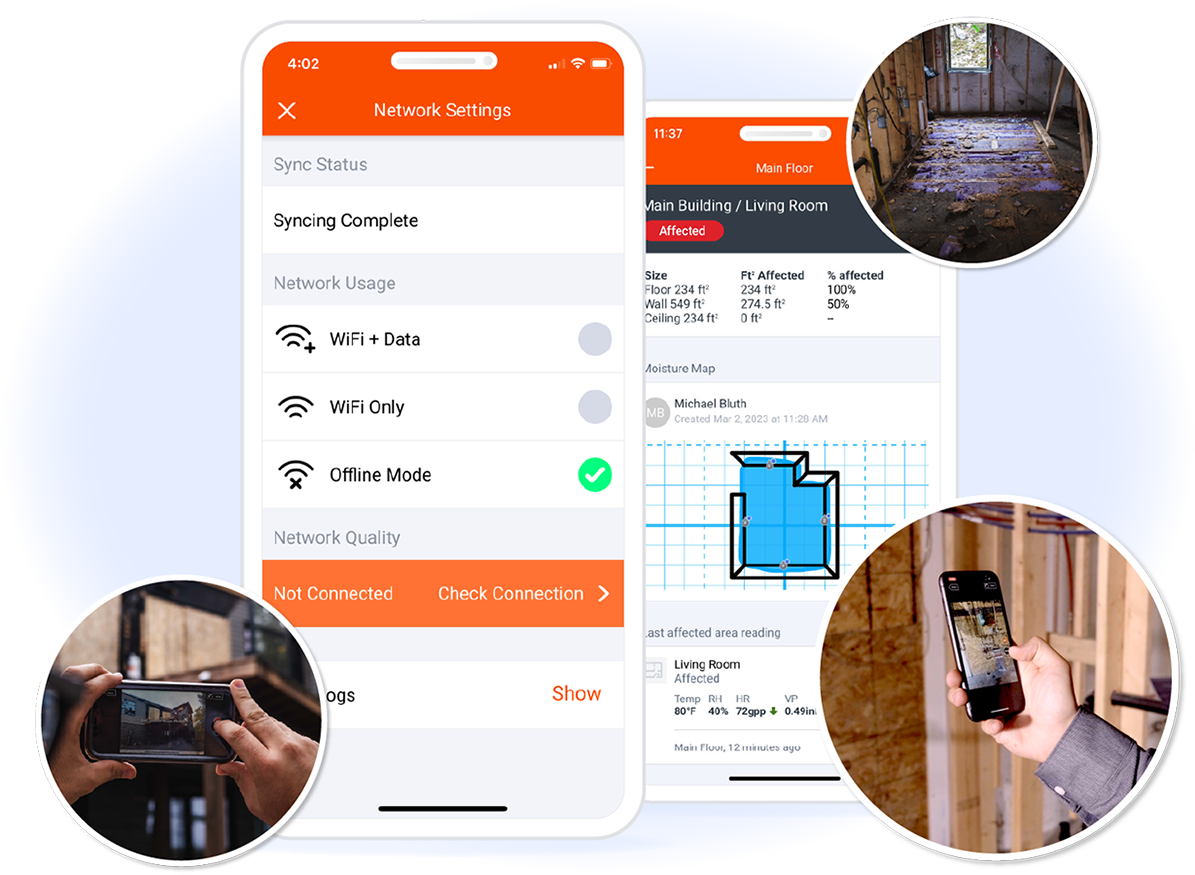 TRUSTED BY LEADING RESTORERS
"To me, Encircle is the easiest part of the job."
ISAIAH PEEK
LEAD TECHNICIAN, PUROCLEAN FORT WORTH, TX
"On the technician side, it's super user friendly. They love using it — it's easy to use, and easy to navigate."
EVAN MACFAWN
SENIOR VICE PRESIDENT, MACFAWN FIRE & FLOOD RESTORATION
"Encircle is so straightforward to train employees on, even if they've never used apps in their day-to-day life. They can learn it within hours, and already be in the field, using it like a professional."
MAX PENA
MARKETING MANAGER, PURE RESTORE
Frequently asked questions
Below you'll find answers to some of the questions we get asked most!
How is this easier than the other apps I've tried?
Many restorers in the field don't like mobile apps because restoration software solutions have not been built with the field user in mind – they are overly cumbersome and complex, so techs fall back to the comfort of pen and paper. That's where Encircle is different. We started with the mobile experience first, making sure it was easy for field users, so you can finally ditch the pen and paper.
What if we have bad or no cell service?
We know that restorers often find themselves in some of the most challenging environments, where a reliable internet connection just isn't a possibility. That's why Encircle works offline the same way it works online, so you and your team can document everything as you normally would in the app and when you're back online, everything will automatically sync. You don't have to re-enter anything or worry that any information has been lost.
Can I use this for commercial jobs?
Yes absolutely! Encircle can scale to meet the needs of any job size and any situation. With offline capabilities, multiple users working in a file at once, and unlimited data storage, you can rely on Encircle for any job.
How many people can be working in a file at once?
We know that there are a lot of systems out there that only allow one person at the time to work in the job file, but Encircle isn't one of them. Anyone with access to the job file in Encircle can be working in it, so multiple technicians can be documenting a loss in the field and at the same time, the PM or office admin can be in the file back at the office and monitor what's happening in real-time – making your job documentation much faster and more efficient.