Encircle Hydro is the only paperless moisture documentation tool created to protect restoration contractors' profitability on water damage jobs. Hydro's water mitigation workflow helps field teams work collaboratively and quickly to document and share moisture data in real-time. The result is faster and more well-informed decision making for restoration contractors, and less pushback on estimates from adjusters and third-party reviewers.
With the latest updates, Hydro is front and center in Encircle and becomes an important documentation workflow on every water job.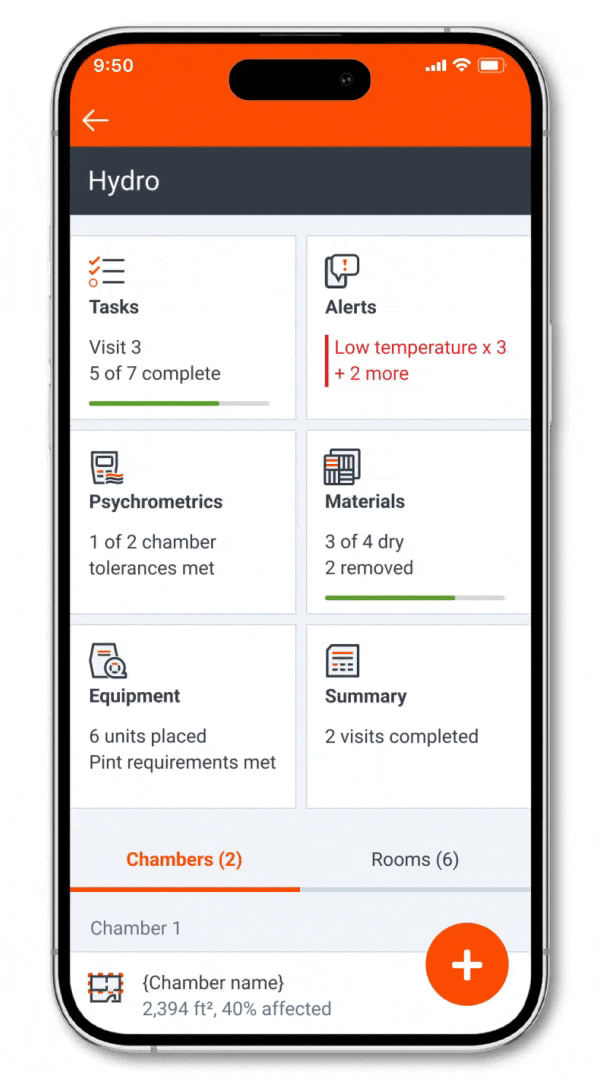 On the new Hydro home screen, Mitigation Supervisors and Project Managers can keep water jobs on track with an at-a-glance view of alerts, psychrometrics, materials, and equipment information.
Even when they aren't on site, they can check in on the job, see drying progress details, and intervene if things are going off track — all from one screen. No need to interrupt field crews with calls or texts if it isn't necessary!
Here's an overview of each section on the new Hydro home screen:
1 - Tasks
An easy-to-follow checklist makes sure that field teams of any skill level can capture all of the required moisture documentation on every visit. The task list can also be edited to your liking — learn more here.
2 - Alerts
Review all active and historical alerts on a job, including temperature, humidity, dew point, grain depression, and equipment alerts. Managers can have insight into what's going on and can intervene quickly before small issues become costly problems. Learn more alerts here.
3 - Psychrometrics
See all psychrometric readings at a glance, including affected area readings and unaffected area references.
4 - Materials
See all moisture points and readings in one place to monitor drying progress of affected materials. Also add and review dry standards.
5 - Equipment
All things equipment, all in one place. View a summary of type and quantity of equipment placed, days the equipment is/was on site, as well as equipment readings and performance.
6 - Summary
A comprehensive overview of all job data on one screen. The place where experienced water mitigation experts can view all data, see trends, and make decisions and recommendations to make sure water damage restoration jobs are successful.
---
Want to learn more about these updates? Watch Mike Aho, Hydro Product Manager, walk you through it in this video: