We have two exciting product announcements to share! We are launching a new Rebuild Scoping tool to help restoration contractors capture every line item when they complete a scope, and we have redesigned our Link tool to help make it easier for policyholders to accurately document their loss.
Rebuild Scoping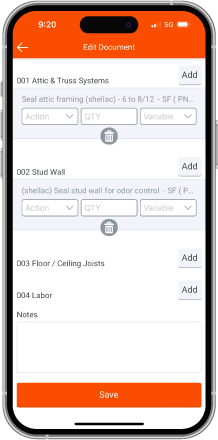 Rebuild Scoping is the newest tool in the Encircle toolkit. Designed to simplify the scoping process for restoration contractors, our new scoping tool helps restorers create accurate, consistent scopes in minutes. Even better, contractors can use the Rebuild Scoping tool in the field on their mobile device, helping them capture every line item as they walk through the site. No need to try and remember details back at the office. Plus, the scope becomes available on the Encircle platform as soon as it is completed, giving your office team instant access and remote visibility into the scope of work.
In addition, line items are grouped together in a logical manner to help contractors and technicians capture the entirety of the scope. The Rebuild Scoping tool also includes the associated macros with each line item, making it easy to transition the scope into an estimate. No need for extensive training as your team can now write accurate, consistent scopes every time! Accurate, consistent scopes become accurate estimates, ensuring that you and your team gets paid for all the work completed on a job!


Never miss a line item again
Find out firsthand how our Rebuild Scoping tool can help you save time and make more money. Request a demo today!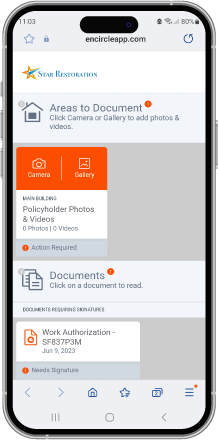 Link is a premier tool within the Encircle platform that connects insurance carriers and restoration contractors with policyholders via a link that has been sent by text or email. This link connects the policyholders to the Encircle platform without having to download an app, empowering policyholders to start documenting their loss while giving carriers and contractors remote visibility into the loss. Want to find out how you could get the most out of Link? Check out the recording of our Get The Most From Encircle webinar!


The Improvements
Both Room Photos and Documents are now visible when Link first loads on the policyholder's mobile device. This change was implemented to help them see what they need to complete to document their loss. It also helps policyholders see what documents require their signature. Note that if there is more than one room in a claim, policyholders can now swipe left or right to view these additional rooms.
To review and sign documents, policyholders can tap on the Documents section and follow the prompts.
In addition, we have simplified the workflow to make it clear to the policyholder what they have completed and what they have left to do while documenting their loss.
Moreover, the ability to see and review the photos has been added so that policyholders can be assured that the insurance carrier or restoration contractor has received their photo documentation.
Lastly, we have made it easier to indicate what structure rooms are a part of in a multi-structure claim.
Need help guiding the policyholder through Link? Click here.
Your Link To the Field
Not using Link? It connects policyholders, insurance carriers, and restoration contractors on one easy-to-use visual platform. Link improves collaboration by providing a clear line of sight on the claim at all times. It is a powerful tool in the Encircle toolkit that allows insurance carriers and restoration contractors to reduce liabilities, optimize resources, and exceed customer expectations.
Find out how by requesting a demo today!