EncircleU training platform accelerates transition to digital field documentation.
For the past 3 years, 911 Restoration has been providing full-service restoration to Central and Northwest Arkansas. As president of the business, Chad Haynes is responsible for a team of eleven employees across two locations. Chad aspires to be the premier restoration company in the state and has built his business on a foundation of trust, honesty, and professionalism.


THE CHALLENGE
Chad was recently introduced to Encircle's all-in-one field documentation solution at The Experience convention and trade show in Las Vegas. As a growing business, Chad found his field teams and his office staff challenged by the inefficiencies of using multiple, different platforms to transfer information from the field to the office. Technicians were focused on getting the job done properly and building trust with the client while doing their best to document with pen and paper, supplemented by smartphone photos uploaded to Dropbox.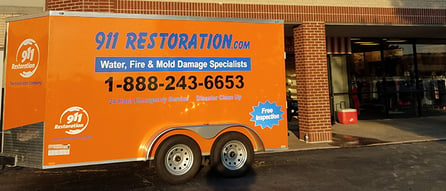 But lost paperwork, inconsistent labelling, and hard-to-read handwriting was creating headaches for office staff putting everything together into reports. Chad knew that they would soon be facing more frequent pushback from adjusters if he could not come up with a more effective solution for clearly documenting jobs, and getting that information from field to office to create professional reports and justify their charge-outs.
THE SOLUTION
After a demo of Encircle, Chad was impressed by the prospect of making everyone on his team happy using a single, all-in-one solution -- to make it easier for his teams to document jobs quickly with pictures, notes, contents, and moisture readings in the field. And for all of that to be available in real-time to his team back in the office to create reports in minutes was really exciting.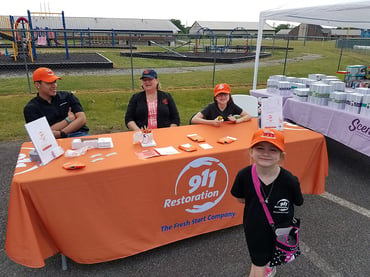 Based on his experience implementing other software, Chad expected a process of long, un-engaging videos and that it would take up to three weeks to get his team trained and comfortable enough to start using Encircle. Instead, his entire staff was registered for EncircleU, Encircle's new learning management platform, and in less than a week was able to complete the courses and discover the capabilities and functionality of Encircle. Without taking time away from regular business operations, they were able to use the practical and interactive micro-learning modules to learn in small pockets of time and test their knowledge with mini-quizzes.


THE RESULT
Just one day after completing training, the team was on a big contents job using Encircle to document everything, taking 600 pictures and spending just a couple of days on-site. With every photo automatically time-stamped, labelled, and synced to the claim in real-time, it was visible immediately back at the office. Chad estimates that his team was at least 50% faster using Encircle to document this job than previous jobs using manual processes. The office team was able to generate a professional report in minutes, without the nightmare of spending hours matching handwritten notes with inconsistently labelled photos from Dropbox.


There is always some degree of hesitation when investing and committing to new technology for a restoration business. Will it deliver on its promises? Will the team accept it and use it? Will it actually make life easier? After just a couple of weeks as a customer, Chad believes that Encircle will quickly become his business' single platform for field documentation and reporting. He plans to rely on EncircleU for ongoing learning to get the most out of the Encircle platform as new features are added. Leveraging EncircleU, Chad can up skill his team and train new employees as soon as they come onboard, equipping them with the tools they need to be the most trustworthy and professional restorer in the state of Arkansas.
"My biggest thing with other training sessions is that we all get distracted when we're watching the learning videos. But with the EncircleU, you were interacting with it. You have to read and it has you do different tasks on each page and then there are questions at the end. It was just a marvellous way to do that."

- CHAD HAYNES, PRESIDENT, 911 RESTORATION OF CENTRAL AND NORTHWEST ARKANSAS