Accountability is incredibly important in the restoration business, and even more so on a job site. With so many restorers using a wide assortment of tools to perform a multitude of tasks, it's easy for things to fall through the cracks. Restoration projects are notoriously dynamic and difficult to manage, and project managers relying on pen and paper often find themselves struggling to deliver high-quality detailed reports. In today's "get'r done" restoration culture, even the smallest details are crucial.
Reconstruction progress reports can serve as a diary, letting everyone know exactly what is happening on a restoration site. Though creating daily, weekly, or monthly progress reports—especially for larger projects—can be extremely tiresome, if a delay does occur, they can protect your business.
In restoration, progress reports serve several purposes, but their primary benefit is to protect your business. For example, if you need a construction lawyer to help you defend a delay claim, creating regular progress reports will make their efforts much more effective. It also reassures the insurance adjuster and policyholder that you are making progress, that the project is going smoothly, that it will be completed by the expected date. It also allows a chance for all MIP's to evaluate your work and request changes.
Components of a reconstruction progress report
A progress report should be completed at a frequency agreed upon by all materially interested parties before any work begins. Progress reports are only as effective as the effort that is put into producing them, and therefore should include details like: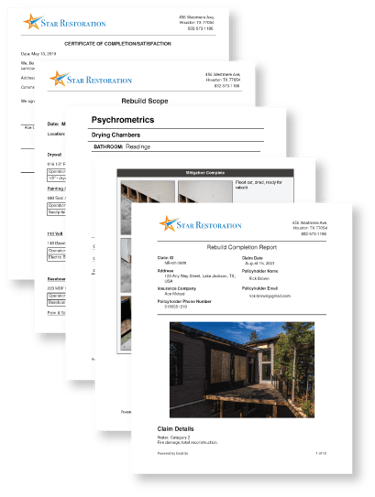 Company logo
Weather conditions
Site conditions
Summary of the activities for the period between reports
Sub-contractors or employees working onsite
Equipment & materials onsite
Budget Concerns
Quality of work
Inspectors and other on-site visitors
Photos and videos, which help paint a clear picture of the progress
Updated Project Schedule
Potential Production Delays
Benefits of a reconstruction progress report
As earlier mentioned, a progress report can prove essential should you ever need to defend a claim. Other benefits include:
Providing the capability to view planned versus actual costs to analyze any inconsistencies
Allowing restorers to audit productivity (or lack thereof) across all areas of the project
Helping establish the impact of weather-related events
Serving as a record of a project if project workforce changes
Progress reporting with the right technology
Following these tips at each stage of each project will ensure that all stakeholders receive the information necessary to evaluate your progress.
But how can you take your reconstruction progress reports to the next level?
Integrating photographs and videos into your reports, making them accessible in real-time, and offering the ability to capture signatures digitally, are all examples of details restoration companies are utilizing to speed up the restoration process, share documentation and enhance the policyholder's claims experience.
Hundreds of restorers are using the Encircle platform to provide these capabilities and make reporting processes easier and more effective.;
Reach out today to learn more about how our platform can help.