Our latest improvements make Link easier for everyone.
Thousands of restoration contractors, adjusters, and carriers, rely on Encircle to increase transparency and reduce liabilities every day. We are always looking to improve our software and make your job as easy as possible. We're excited to announce that we've made a substantial update to Link by enabling the Policyholder to assist in capturing documentation at the first notice of loss.
What is Encircle Link?
Experiencing a loss to a home or business can be stressful for a policyholder. We've all heard the cliché, "a picture tells a thousand words", but there is real value in using images to communicate, make decisions and ensure clarity. Link enables you to stay connected to the policyholder and get remote visibility from the first notice of loss through the close of a claim. A picture can quickly clarify if you're dealing with 6' deep of water or 6' wide of water.
Using visual data shared via Link from the policyholder, you can speak confidently about the loss and ensure that your team is prepared when they arrive onsite. You receive a notification alerting you of new photos and documents being added to the claim. Before even stepping onsite, you understand the loss and can plan the right equipment, employees and have authorization forms signed in order to proceed.
What's new with Link?
1. Link with notifications
Imagine knowing in real time when a policyholder has uploaded signed documents and pictures. With real-time notifications, you can keep a close eye on your claims. Share Link with your policyholder and start gaining remote visibility as soon as the first photo is uploaded.
2. Room With a View
By default, any photos and documents the policyholder takes will automatically be placed in a room marked Policyholder Photos. Keeping them separate from contractor photos makes it easy when navigating through the claim and generating reports. There's also a dedicated page for the policyholder's photos and documents. This page can be easily accessed from the top of the claim overview to make reviewing photos at FNOL as quick and seamless as possible.
Easy as 1-2-3
Share Link with the Policyholder
Policyholder signs work authorization remotely and photographs their loss
Receive a notification as the Policyholder signs documents and submits photos so you can review and provide feedback in real-time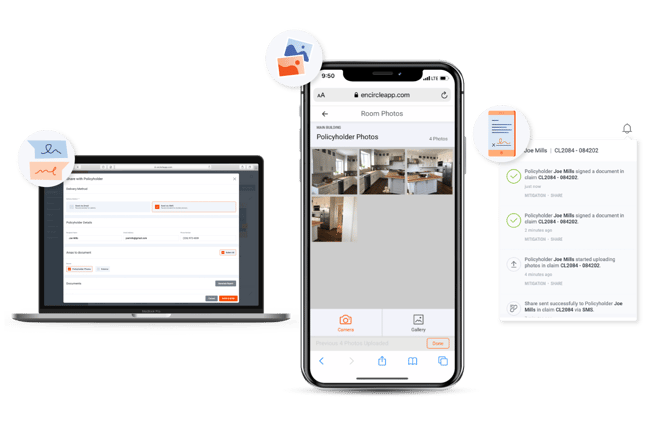 How to get started
Link with notifications is available to all Encircle users at no additional cost!
If you have questions about Link, or if you need a little help, call our Support Team at 1-888-937-1077.