Any number of things can cause damage to a structure, from natural storms to sewer backups. Regardless of the cause, the more detailed your restoration field documentation is throughout the mitigation process, the more robust your reports will be at the end of the job. Detailed restoration field documentation helps harmonize all materially interested parties' understanding of the loss and supports your charge out invoice.
So how do you create more robust restoration field documentation?
Have a repeatable process
You need a clear process for how your team will document damages. Do you have best practices written down for your techs to follow? If not, develop a set of best practices that your team can use, and review them frequently. Every job is different, so the process needs to account for all possible situations.
Don't leave the task of developing a process up to your employees as different employees could develop different methods for documentation. This can make it difficult to onboard new employees if there is no consistent, repeatable process. Without consistency and a solid process to lean on, those new employees could be more likely to make mistakes or miss something during their restoration field documentation.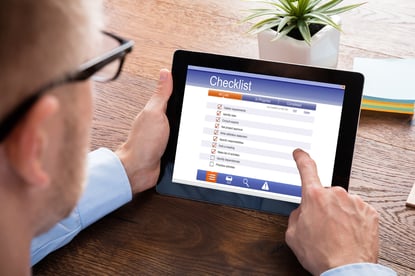 Instead, work with your team members to come up with a checklist that works for your restoration field documentation process. Listen to their input and ask them to help fine tune the checklist as new situations come up. Your checklist will evolve as your team discovers what works best for them. Additionally, remember your process should include everything from what restoration software you use to record notes, to how you take photos while on site. This ensures that your reporting is consistent across all jobs, regardless of who was on the job site.
Mentorship
Although restorers learn a great deal in their coursework, there is still a lot of practical knowledge to gain working in the field. This is where your more experienced techs and PMs can help guide your inexperienced techs. Ask them to help develop a mentorship program for new techs that will help them apply what they learned in the classroom to actual jobs. Restorers who accurately document such items as direct structural and pre-existing damages will get paid faster. This will help techs create more detailed restoration field documentation at the start of the job, helping your admins to create strong reports for insurance carriers while protecting your business from liabilities.
Embrace new tools
Some contractors' field documentation restoration process includes handwritten notes and pictures taken with a digital camera. This 'old school' method may work, but it also creates delays in your process, as your admins will have to wait for notes and photos to physically return to the office before they can create estimates and reports. Instead, look for a field documentation tool, like Encircle, that allows your team to keep all of the documentation captured on site - photos, notes, and sketches - easily accessible, but stored securely. Encircle helps your team quickly and accurately document losses while making all that documentation instantly available on the Encircle platform in real-time. This not only saves time, it helps your team easily create reports with a few clicks.
Ultimately, to create solid restoration field documentation that will support comprehensive reporting and invoicing, you need to develop a repeatable process, rely on your more experienced team members to mentor the more inexperienced techs, and use a reliable restoration software documentation tool that makes it easy to capture photos, notes, and videos in the field.
Trusted by thousands of restoration contractors
Discover an all-in-one field documentation tool that makes it easy to take photos, notes, and videos on site and share them with your team.