Is your team maximizing the value of the Encircle platform? If your answer is no, this blog will give you insight into five game-changing features you may be missing out on.
5. Job status & filters
Tired of chasing your team for updates? Use our Job Status feature! In the Claim Inbox on the Encircle web app, there are four divisions to work from: Mitigation, Moisture, Contents, and Rebuild. We've included default sub-statuses within each workflow that can be customized to fit your business' existing processes. Job status helps you know what stage your team is in, which team member adjusted the status, and when they adjusted it. Statuses can be updated on the web app and on our mobile app so you can stay up-to-date no matter where you are.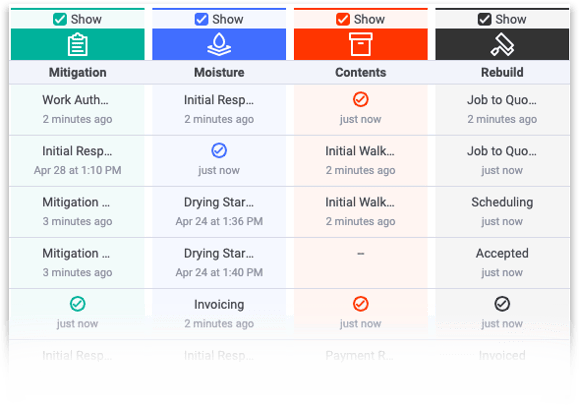 Filters allow you to quickly identify groups of claims. Create custom filters based on date range, associated people, status, and context. Name your filters and save them for use in the future!

4. Structures
A Structure is a way to organize your rooms in Encircle. Structures are set up during claim creation. Inside a claim you can set up as many structures as you'd like, with as many rooms as you'd like within those structures. In the image below, you'll see three structures - Units A, B, and C, and inside of each structure there's a bedroom, bathroom, kitchen, living room, and a notes room. Even though the room names are the same, they belong to different structures so you can keep your jobs organized without having to open additional Encircle files. When you pull an Encircle PDF photo report, these structures will be neatly organized.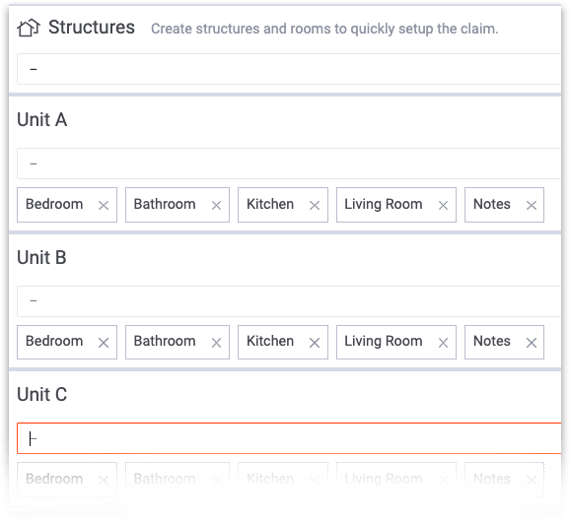 3. Custom documents
When your team is using paper documents, there is a major time lapse between when that document is filled out and when it gets back to the office to be input. This adds time to the claim lifecycle and could potentially affect when you get paid for a job. We can replace any paper documents you use today with a digital version that can be generated and signed within your Encircle platform so that all your documents are in one spot. If your forms are digitized, you're guaranteed to never lose or damage a document and it remains on your Encircle file forever. Digitizing your documents gives you the ability to collect signatures from your homeowners or your technicians either via the app on site, or through Encircle Link!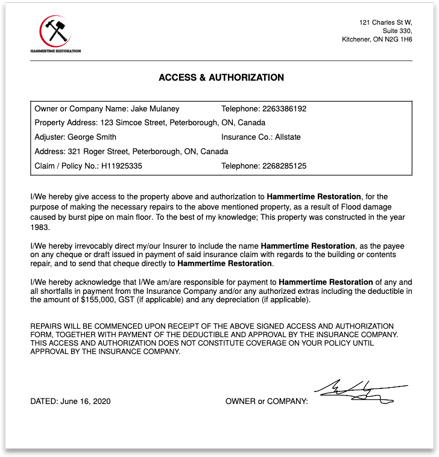 If you're interested in getting some forms added into your account, email bchristie@encircleapp.com for a quote.


2. Photo notes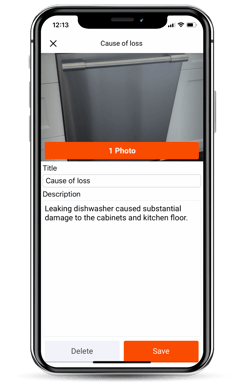 Photo Notes provide context to your job photos, and help tell a clear story in your photo reports. When you use Photo Notes, the goal is to give complete information so the person that needs to make decisions has a complete picture of what's happening onsite. Use the speech detect feature on your mobile to make capturing notes easy.
Common examples of Photo Notes are:
Resulting damage to the structure
Pre-existing conditions
Initial inspection
Daily photos
Changes in scope
Discovered changes


1. Encircle Link
Link is a communication tool for you and your customer or other stakeholders involved in the claim. It allows you to get photos, videos, and signatures via text or email. You've probably seen it before in the Overview tab of the claim. Link will substantially improve efficiencies, not just to your first notice of loss process but throughout the whole claim. Learn more at getencircle.com/link.

If you and your team make small tweaks to your processes and invest a little time up front, you will see significant gains.
More about our experts
Brandon Christie, Customer Success Manager
Brandon strives to build a relationship with our Encircle customer base and ensures they are receiving the most value out of the system. He bridges the gap between the customer and the product team to ensure that every customer has a voice in building our product. Brandon and the Success team aim to set the industry standard for response times and customer satisfaction scores. Get in touch with Brandon at bchristie@encircleapp.com.


Anna Donahoo, Customer Success Manager

Anna helps users pull every ounce of value from the Encircle platform through a hands-on style of coaching and training. She works closely with new customers to not just learn to use their shiny new tool, but to use it well. Get in touch with Anna at adonahoo@encircleapp.com.