We are in the heart of the Atlantic hurricane season. This year, we've already seen Hurricane Florence and Michael cause extensive damage across the Southern United States. In the wake of this destruction, we've pulled together a list of the most destructive hurricanes that have hit the United States to see how they compare.
The Most Destructive Hurricanes
Since 1990, we've seen 88 'major' hurricanes in the Atlantic region with a strength of Category 3 or higher. 2005 matched the record for the most major hurricanes in a year, reaching a total of 7, whereas 1994 and 2013 had no major hurricanes. Here's our list of the top 5 most destructive hurricanes to hit the United States.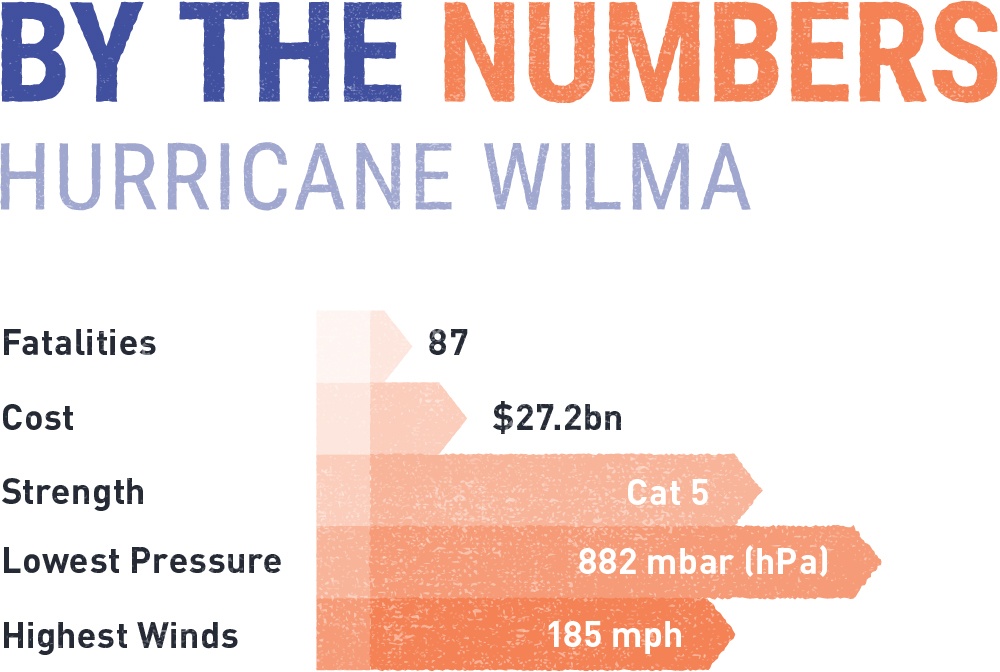 Between October 18th and 19th, 2005, Wilma upgraded from a tropical storm with 69mph winds to a massive Category 5 hurricane with 173 winds. Over 64 inches of rain fell in just 24 hours while Wilma was over Islas Mujeres, Mexico. The heavy rain slowed the hurricane before it turned towards Southern Florida, making it a Category 3 hurricane with winds of up to 120mph. Wilma was underestimated by many Florida residents as it was predicted to weaken after it hit Mexico. It strengthened on its way to the Southern United States and left 98% of the state without power. Wilma was unique because it had the smallest eye known in any Atlantic hurricane, but the wake was so wide it affected most of Florida.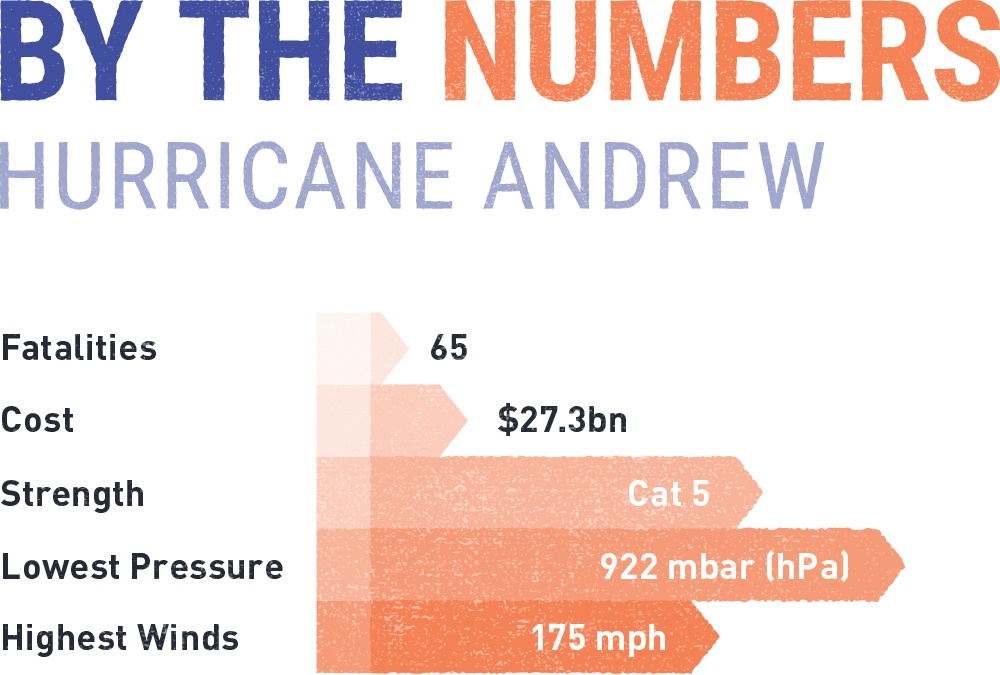 Hurricane Andrew formed on August 15th, 1992. It first landed on Eleuthera Island in the Bahamas as a Category 4 storm that caused a massive 23-foot storm surge. Andrew continued west toward Florida. The hurricane made landfall in Florida on August 24th and at that point, it had wind gusts up to 212mph. 25,000 homes, 8,000 businesses, and 15,000 boats were lost to Hurricane Andrew. Andrew had a very small diameter allowing it to move quickly and become very destructive without much rain. In fact, it only took 4 hours for it to pass through Florida and continue on to the Gulf of Mexico.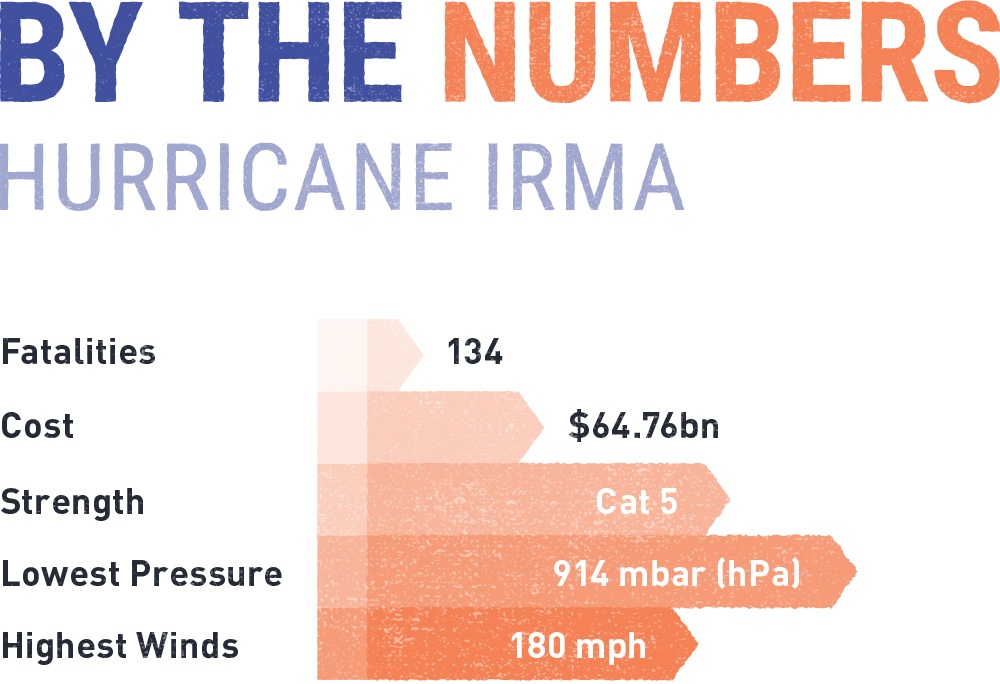 Hurricane Irma was one of three hurricanes to erupt in the Atlantic Ocean around the same time. Irma was also the most powerful Atlantic hurricane in recorded history. The hurricane stretched 650 miles (wider than Texas), affecting over 9 US states, in addition to countless devastated Caribbean islands. The first landfall was made on September 6th in Barbuda and Antigua, before moving on to St. Martin, Anguilla, St. Kitts, Nevis, the British and US Virgin Islands, and Puerto Rico. On September 7th it hit the Dominican Republic, Haiti, and Turks and Caicos. On Friday the 8th, Cuba and the Bahamas were next in the line of fire. On the 9th and 10th Irma finally swept through Florida as a Category 4 hurricane after devastating the Caribbean. The next day Irma weakened to a tropical storm.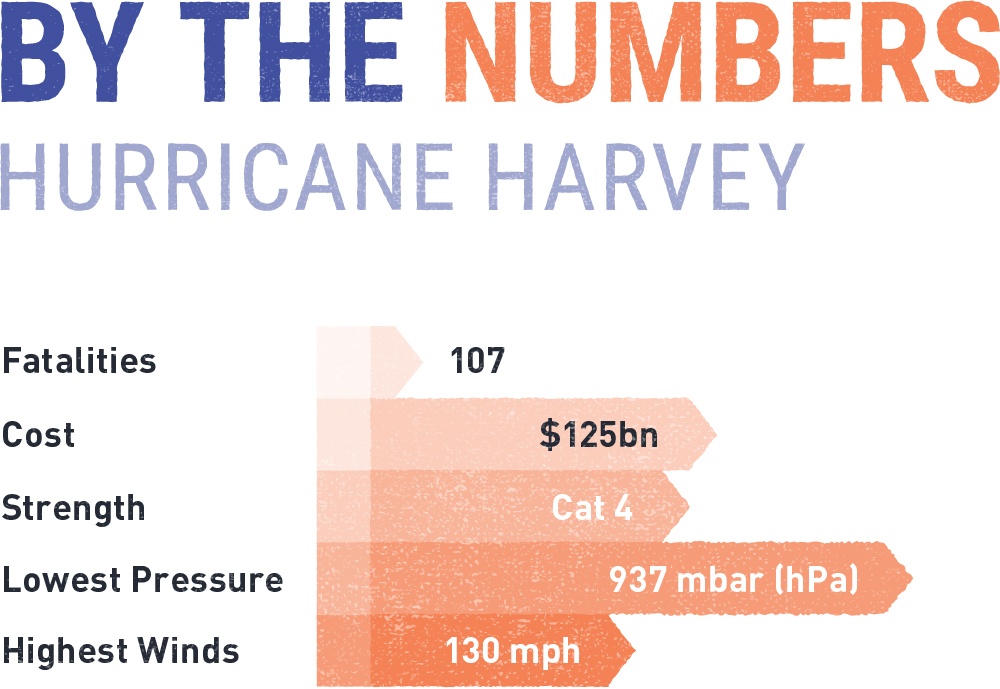 Hurricane Harvey was the second most expensive US hurricane on record, affecting Texas and Louisiana, causing an estimated $125 billion in damage. Harvey affected approximately 13 million people and almost 135,000 homes. The flooding after Harvey made it the wettest Atlantic hurricane ever measured, dumping over 27 trillion gallons of water over Texas. Not only was damage extensive, but it was also widespread, with 18 different parts of Texas being inundated with more than 4 feet of rain. Fifty-seven tornadoes were also created as a result of the storm.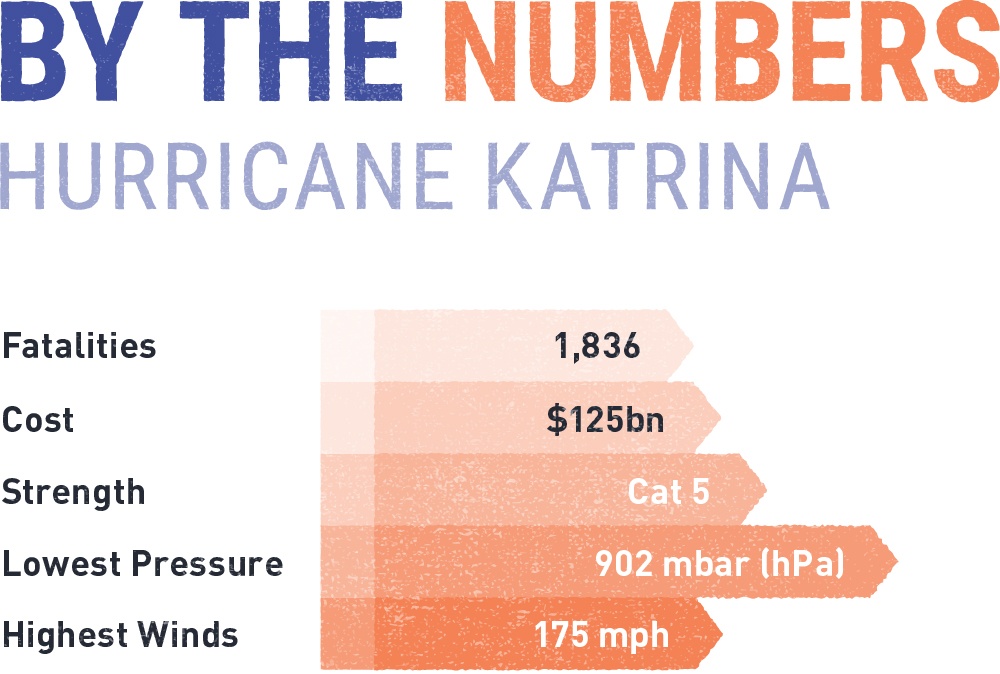 This tropical storm initially formed over the Bahamas on August 23rd, 2005. It wasn't long before evacuations were underway along the Gulf Coast. New Orleans had levees along the Mississippi River, Lake Pontchartrain, Lake Borgne, and smaller wetlands along the east side of the city. The levees were designed for a Category 3 storm, but Katrina peaked at a Category 5 hurricane. On August 28th, the night before Katrina hit, Mayor Ray Nagin issued a mandatory evacuation. By that evening almost 80% of the population had evacuated.

By August 29th, it had already been raining for hours. Lake Pontchartrain quickly flowed past the levee and into the low-lying parts of the city. By 9AM the storm surge had hit and reached as high as 9 meters (20 feet) in some places. The flooding was not an average storm surge as it was caused by the failure of levees.

Some describe Hurricane Katrina as "a ticking time bomb" or something that was "inevitable." Although Katrina turned out to be the worst hurricane in US history, it drove dramatic changes to the Federal Emergency Management Agency (FEMA). FEMA, by means of the Post-Katrina Emergency Management Reform Act (PKEMRA) of 2006, has made changes to its mission and priorities.


Inventory Your Home
Natural disasters are stressful enough without needing to worry about your possessions. When it comes to doing a home inventory of your belongings, we've got you covered! Download our free home inventory app onto your mobile device now: