RESTORATION ESTIMATORS
Accurate estimates on day 1,

without any back-and-forth

Estimate writing becomes faster and easier with
all the info you need, right from the source.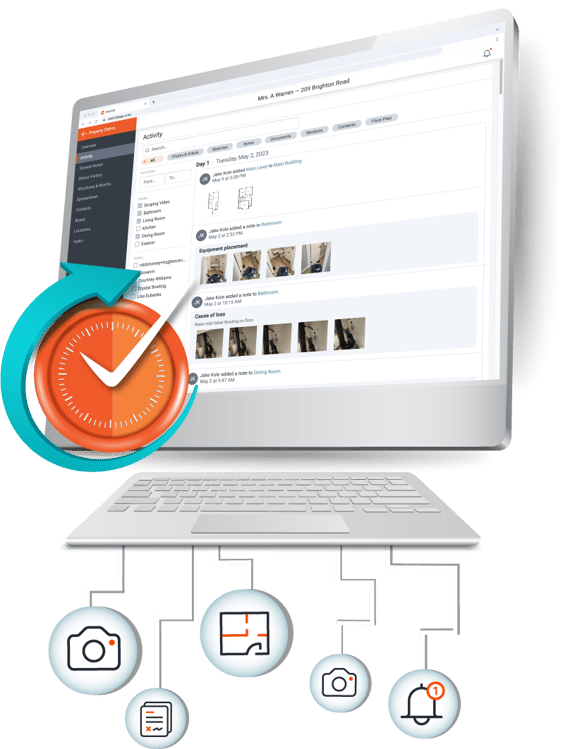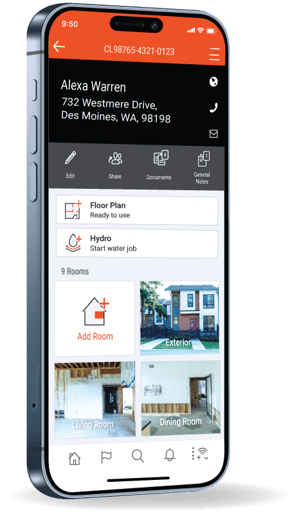 All documentation. One application.
Encircle takes the pain out of documenting with an easy-to-use mobile app that was designed to be used in the field. Get more consistent field data, access it in real-time, and easily find the info you need.
Use Encircle to document…
Water damage
Capture critical water job details in a simple and guided workflow. Show the drying plan, monitor progress, get alerts and guidance if things are going off track, and justify the work with
Encircle Hydro
.
Fire and smoke
Tell the story of a fire loss from initial site inspection through to rebuild, within one Encircle file. Leverage features like
video walkthrough
,
Encircle Floor Plan
, and
reports
to get all parties on the same page.
Mold remediation
Meet regulatory standards for mold jobs with
custom forms
and consistent processes. Document every detail and keep all parties up-to-date with
fast and easy reports
.
Contents
Save days in the field inventorying and packing out personal property. Contents managers operate more efficiently with Encircle's simple and repeatable
contents workflow.
Biohazard cleanup
Catastrophes
Dispersed teams and high job volumes after CATs require
technology that keeps you connected
and in-the-know. Amidst the chaos, Encircle delivers reliability in these extreme situations.
Get the facts from the field, faster.
Superior scoping.
Leave no stone unturned and no billable detail undocumented, with Encircle's mitigation and rebuild scoping sheets (Xactimate macros included!). Plus, get everyone on the same page from the start, with our video walkthrough feature.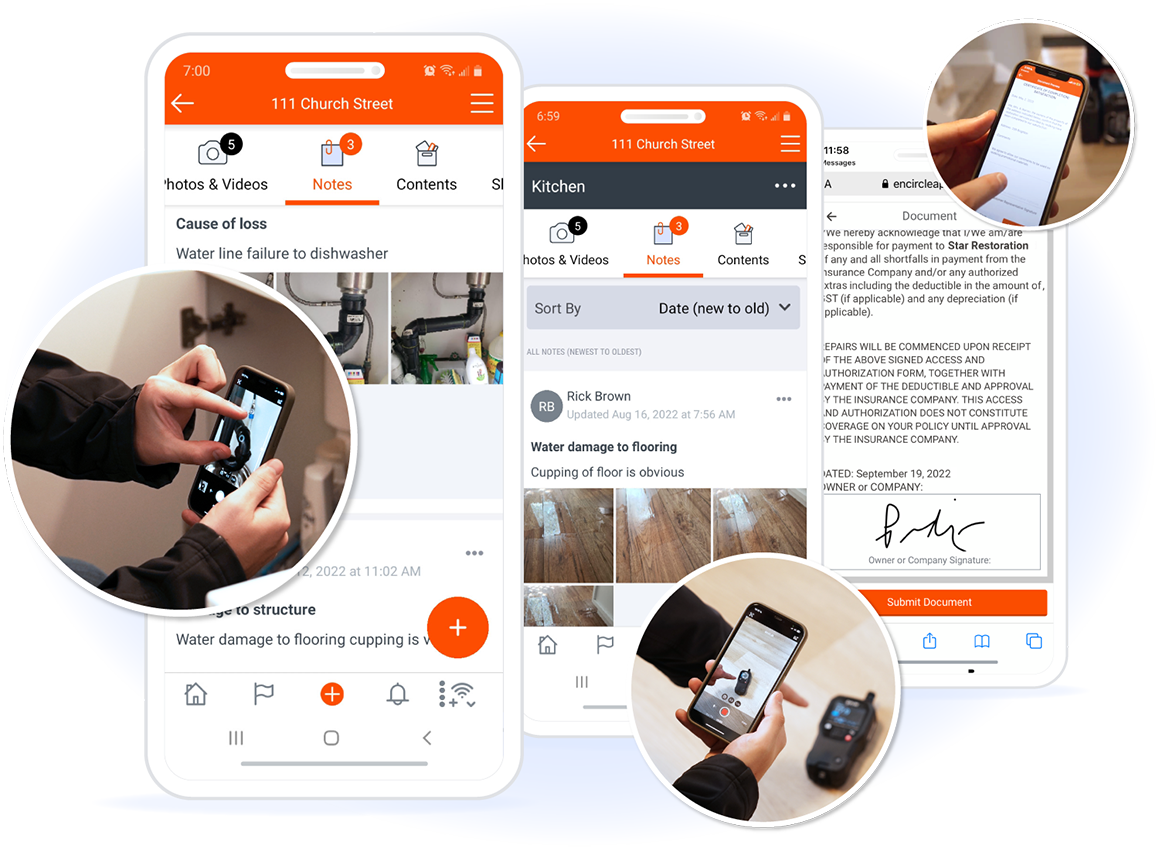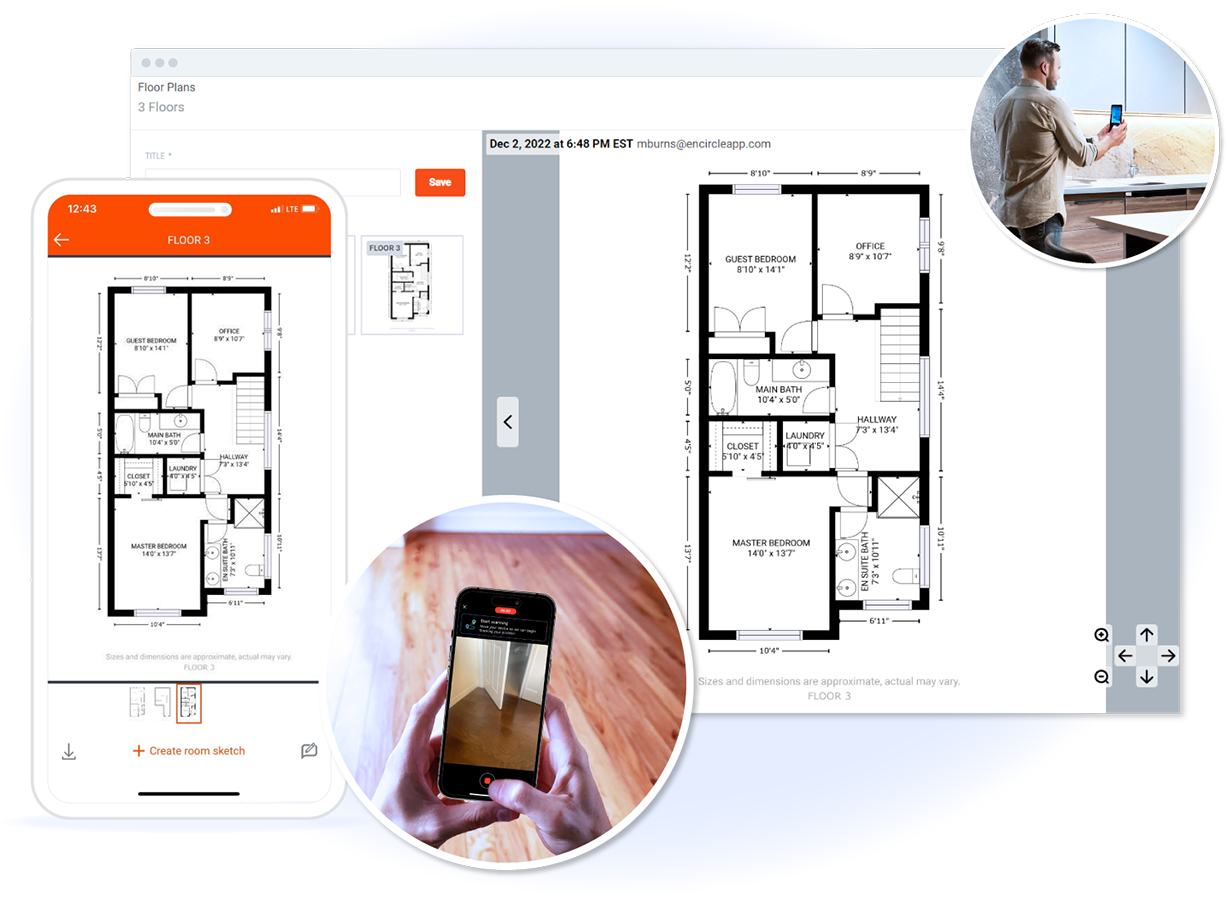 Sketches without scribbles.
Start your estimate on day 1, and stop deciphering and digitizing hand-drawn sketches. Encircle Floor Plan delivers consistent, reliable sketches from the field, FAST.
Centralized information.
Access the information you need as soon as it is captured, with Encircle's real-time sync. A central, single source of truth takes the guesswork out of estimate-writing, and reduces the back-and-forth between teams.
Testimonials
Don't just take our word for it.
"There is nothing out there that competes in this industry that is as comprehensive or as easy to use as Encircle in the field. It has everything you could ever need to capture documentation. And in this industry, your money is directly tied to your documentation."


KARENA GEORGE
Owner, Xact Mitigation Consultants

"Encircle provides the perfect centralized hub for our business. We get a full overview of multiple departments and projects within the company. When it comes to saving time and creating accurate documentation for each job, Encircle can't be beat."


EMMA CARROLL
Office Manager at Pure Restore


"Our Insurance partners are always impressed with our detailed reports and content pricing. Encircle has saved us multiple hours or work with such impressive results that we will never go back to doing it manually."
KYLA HARPER
Office Manager PuroClean Restoration Barrie
"Before Encircle, we'd constantly be hunting down paperwork… everyone using different programs. Where are the drying logs? The work authorizations? Nobody was submitting anything properly. Encircle was a huge game-changer."
KARENA GEORGE
Owner, Xact Mitigation Consultants


"When it comes to writing a good estimate, Encircle is making our lives a thousand times easier."




NATE CISNEY
Restoration Made Simple
Frequently asked questions
Below you'll find answers to some of the questions we get asked most!