RESTORATION ADMIN TEAMS
Centralized field documentation for office teams in
real-time.
Say goodbye to duplicate data entry, manual admin tasks, and spending hours compiling reports.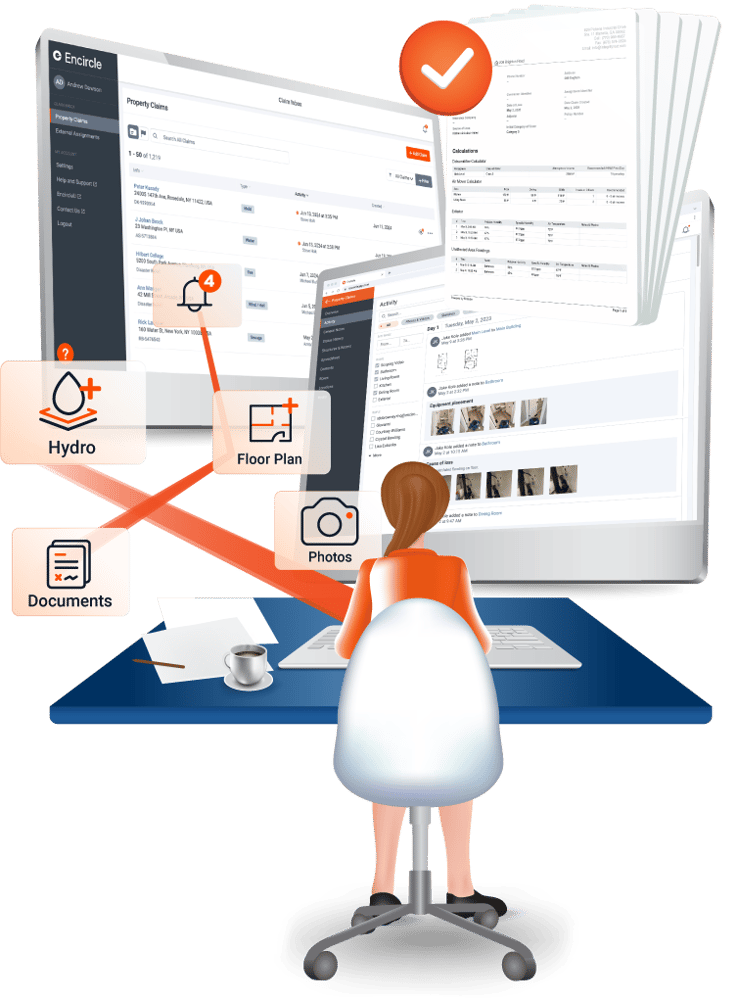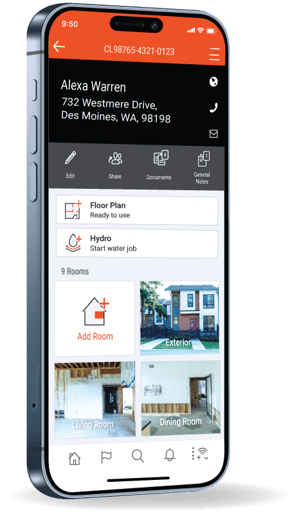 All documentation, one application.
Encircle makes documentation easier for any type of restoration job, providing more consistent and organized data from the field.
Robust reporting, regardless of job type.
Water damage
Capture critical water job details in a simple and guided workflow. Show the drying plan, monitor progress, get alerts and guidance if things are going off track, and justify the work with
Encircle Hydro
.
Fire and smoke
Tell the story of a fire loss from initial site inspection through to rebuild, within one Encircle file. Leverage features like
video walkthrough
,
Encircle Floor Plan
, and
reports
to get all parties on the same page.
Mold remediation
Meet regulatory standards for mold jobs with
custom forms
and consistent processes. Document every detail and keep all parties up-to-date with
fast and easy reports
.
Contents
Save days in the field inventorying and packing out personal property. Contents managers operate more efficiently with Encircle's simple and repeatable
contents workflow.
Biohazard cleanup
Catastrophes
Dispersed teams and high job volumes after CATs require
technology that keeps you connected
and in-the-know. Amidst the chaos, Encircle delivers reliability in these extreme situations.
Eliminate administrative headaches.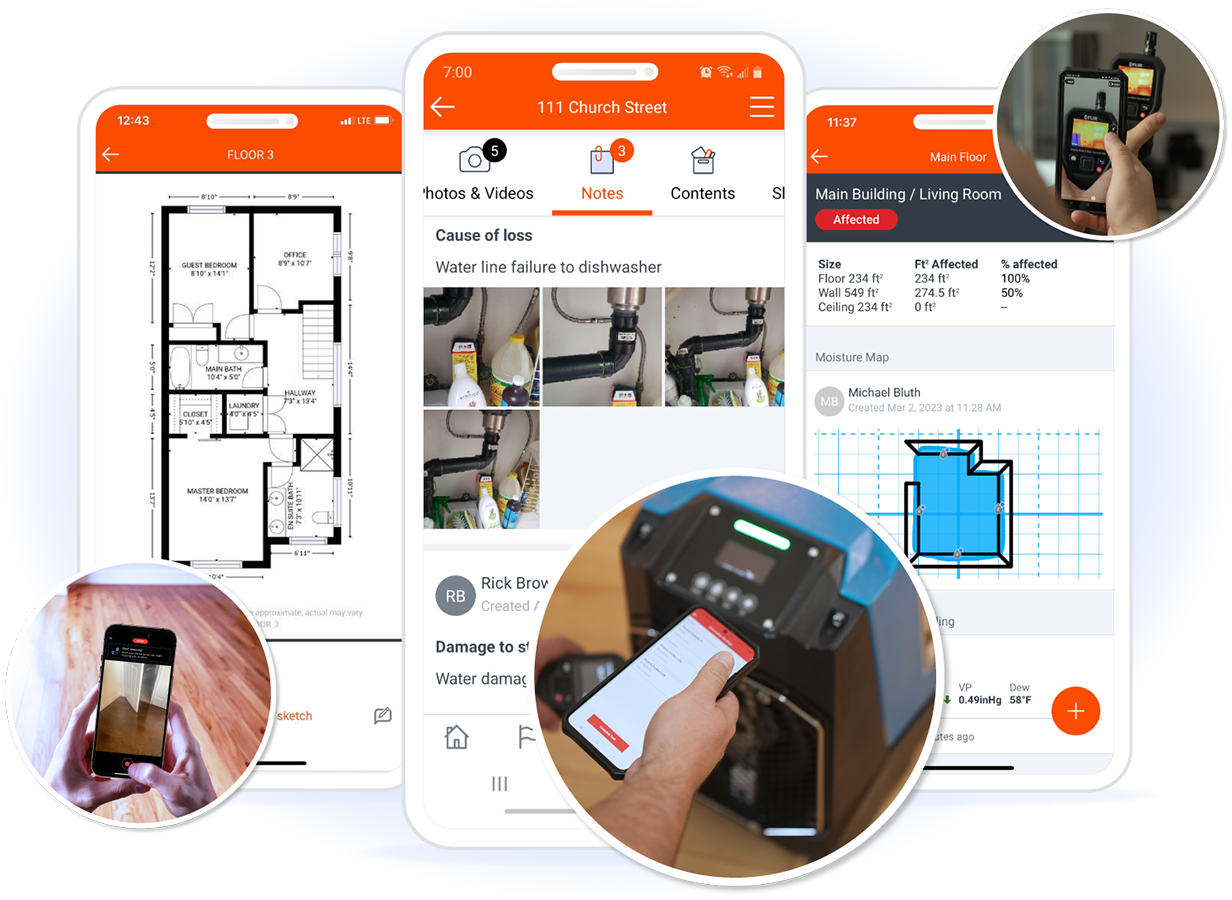 Stay in the loop without picking up the phone.
Get direct access to all field information in one place, instead of chasing down documentation. Watch the job file populate in real-time with signed documents, photos, videos, notes, moisture readings and more.
Create reports at the speed of light.
Save hours manually compiling field data with Encircle's easy report generation. Create and share any report within minutes, and choose which data you want included.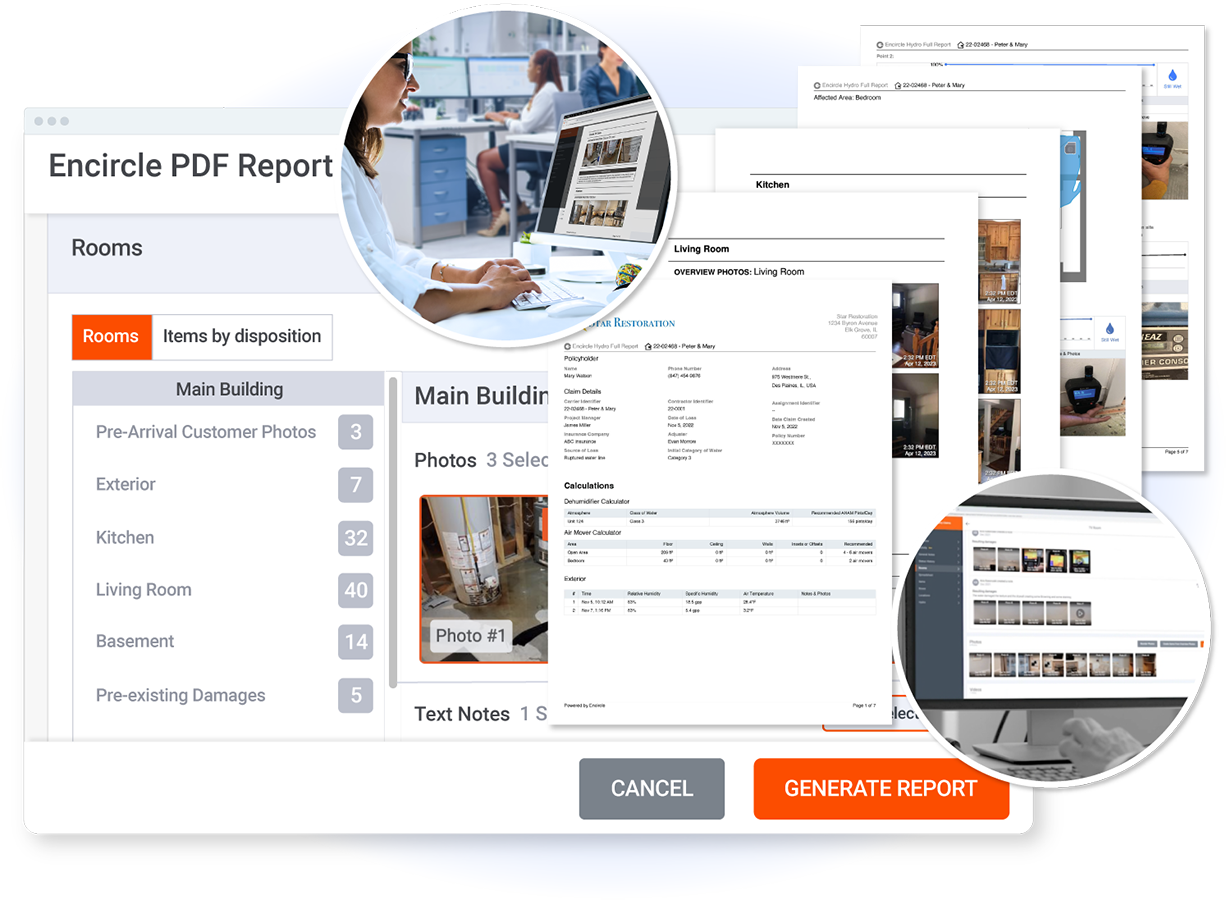 TRUSTED BY LEADING RESTORERS
"Encircle provides the perfect centralized hub for our business. We get a full overview of multiple departments and projects within the company. When it comes to saving time and creating accurate documentation for each job, Encircle can't be beat."
EMMA CARROLL
Office Manager at Pure Restore
"We use it daily and it's worth every penny. Encircle has increased my profitability on contents jobs by 20%. Adjusters look at the report, comment on how amazing it is, and hand over the cheque—no questions asked."
NICOLE STONE
Office Manager | Rytech Ventura
"Our Insurance partners are always impressed with our detailed reports and content pricing. Encircle has saved us multiple hours or work with such impressive results that we will never go back to doing it manually."
KYLA HARPER
Office Manager, PuroClean Restoration Barrie
Frequently asked questions
Below you'll find answers to some of the questions we get asked most!
How many people can be working in a file at once?
We know that there are a lot of systems out there that only allow one person at the time to work in the job file, but Encircle isn't one of them. Anyone with access to the job file in Encircle can be working in it, so multiple technicians can be documenting a loss in the field and at the same time, the PM or office admin can be in the file back at the office and monitor what's happening in real-time – making your job documentation much faster and more efficient.
What if we have bad or no cell service?
When we hear this, it's usually from a restoration company that is currently using pen and paper to document job details. We get it, double-entry is a waste of time and you've got more important things to do.
Ironically, when it comes to using pen and paper, you are still double entering information. Information is recorded in the field but the paperwork still has to be entered into a software program back at the office so that you can present the file to an adjuster, TPA, or customer for payment.
With Encircle, the job details are entered once, right in the field, synced in real-time with the office for review and a professional report can be created in just a couple of clicks. Bye-bye double entry!
Is the Encircle PDF file too big to send by email?
The Encircle PDF reports contain thumbnails with clickable HTML links to view each photo and video. This keeps the file size down so that the report can be easily emailed without worrying about exceeding attachment limits. Clicking on the HTML links allows the viewer to look at the photos and videos in a larger format, zoom in/out, and even download the image.
Can I upload my Encircle reports into XactAnalysis?
Yes! Encircle Excel and PDF reports can be easily uploaded to XactAnalysis. If required, individual photos can also be downloaded from Encircle and uploaded into XactAnalysis. All media downloaded from Encircle is already labeled, greatly reducing administrative time.
Can I add other documents to the Encircle report?
Any documents (e.g. subcontractor invoices, test results, MICA report, Xactimate estimate) can be uploaded to Encircle and attached to the Encircle PDF report. Many restoration contractors do this to keep all of the documentation from a job together in one place, in a format that is easy to share at a moment's notice.