How do you market a restoration company?
Promoting your own business can feel hard. Overwhelming. Frustrating. There are a lot of tactics out there when it comes to marketing ideas for your restoration company—everything from social media, print ads, SEO, pay per click ads, brochure drops, direct mail, email marketing, and referral programs just to name a few—and just as many opinions. If you're not careful, your efforts to market your restoration business can add up pretty fast and leave you wondering what results you even got for your investment.
Heading into the new year, we asked the marketers at Encircle for their advice. If they owned their own business and had a limited amount of money to spend on marketing, here's how they would choose to spend it wisely.
Take advantage of Google's free Business Profile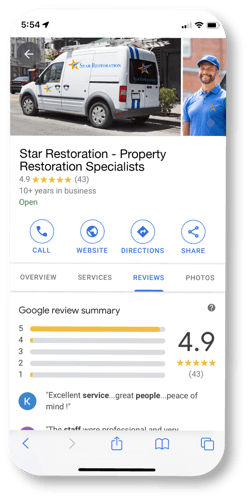 At the very least, every restoration business should set up their free Google Business Profile when they start with marketing. Think of this as a digital storefront—it can send traffic to your website, allow people to call you with a click of a button, and most importantly, have your business show up in search results when someone is looking for the service you offer.
Pro tip: when you're filling out the services section, use terms your customers would be searching for such as water damage repair, flood damage services, fire damage removal, and so on.
Other tips to make the most of your Google Business Profile include:
Add photos! Before and after photos are a great way to instill confidence in a potential customer by demonstrating the quality of your work. This is even more important for new restoration businesses that are just getting started and having to compete with well-established ones.
Ask happy customers to give you a review - the better your reviews, the more traction you'll see.
Make it easy to contact you by adding your phone number, email, and website, and respond as fast as you're able. Remember, in their time of need a distressed customer could easily keep calling until they reach someone.
It's better to do a great job at a couple things than an OK job on a lot of things
If there's one thing we can't stress enough it's this: be selective in your marketing tactics and stick with the ones you can manage and do well, as opposed to trying to do it all.
Not every tactic is going to work for every type of business either. For example, clothing retail is known for a lot of frequent, repeat business, as well as impulse purchases, so it makes sense for them to focus on building a large subscriber database and having a pretty robust email marketing program. For restoration businesses, you'll want to think about what tactics get you in front of qualified customers when they're ready to act—often in highly emotional, unplanned times. As mentioned earlier, they may search Google, but they might also ask around for referrals, so you'll want to build good relationships with industry partners, vendors, and customers who can help send more business your way.
When you do get new business inquiries, ask how they heard about you and track it so you understand which channels are worth focusing on.
Invest in digital advertising wisely
Digital advertising can be a really lucrative strategy—but it's also highly competitive. The more businesses bidding on the same topics, the more expensive it becomes.
Here are a few tips to improve digital advertising results for your restoration business:
If it's a brand new tactic for you, start by trialling different platform options such as Facebook and Google. Set a budget you're comfortable with and see which performs the best.
Figure out how you're going to measure the results. If setting up conversions or tracking URLs feels a little complicated, one simple strategy is to create a website page you only use for that specific ad campaign to see whether you get any inquiries from it.
Be realistic about the geographical area and terms you include in your campaign set up. It can be tempting to go broad to "get more eyes" on your ads, but this is a quality over quantity game—don't waste money on impressions that aren't likely to convert into customers.
Ultimately, if ads become a staple within your marketing plans, it's also worth spending a couple hours getting certified with the platforms you're using—such as with Google Skillshop, free e-learning courses designed by Google product experts —to gain a deeper understanding of how you can improve your results.
Other marketing tips for restoration businesses
Build a website! There are a number of free-to-small investment platforms available now that make it really easy to build a professional looking website without web design experience. Make sure your site clearly outlines what you do, the services you offer, showcases your work, and makes it very easy to contact you.
Social media can be another great tool for local marketing. With that said, this is another area where you should be selective in what platforms you can reasonably keep up-to-date if you're going to do it. Even if it's only once a week, set a goal to be active at a regular cadence and don't be tempted to flood it with sales-type messaging. Provide valuable content that people want to engage with that's relevant to your business. Also make it a point to be responsive to your messages.
Should you outsource? Keeping up with marketing internally and acting fast enough to produce results can be tough. Outsourcing your marketing to a professional can alleviate a lot of the burden—but do your homework. If you work with an agency, you may be paying for a lot of overhead which can also get expensive, depending on their size. Explore at least 2-3 external options, get quotes, proposals, and references. This will help you gain an understanding of whether they would be a good fit for your business.
Know yourself and your customers
If you haven't already done so, take time to define and articulate what makes your business better than the competition.
What makes you stand out?
Are these unique differentiators things that your customer cares about?
Do they help your customer in a meaningful way when disaster strikes at their property?
The best way to deeply understand what makes you different is to ask your customers—the ones who love you and the ones who don't.
Once you've identified what makes you remarkable, this must become your battle cry. These attributes form the foundation of all of your marketing efforts and should be consistently communicated in everything you do.
Recap
While this is not an exhaustive list of every marketing tip for restorers, it should help you start thinking critically about a marketing strategy for your business.
The number one thing to remember is that marketing programs are not one-size-fits-all. You'll want to make incremental investments and changes until you determine what works best for you.
Now kick some a$$ in 2022!
— Your marketing pals at Encircle!