Restorers: There's an Easier Way to Manage Your Jobs
Encircle is the only all-in-one field documentation tool that gives you control over your restoration business. Gather complete, accurate details from job sites and share them instantly on one platform with your team, homeowners, and adjusters.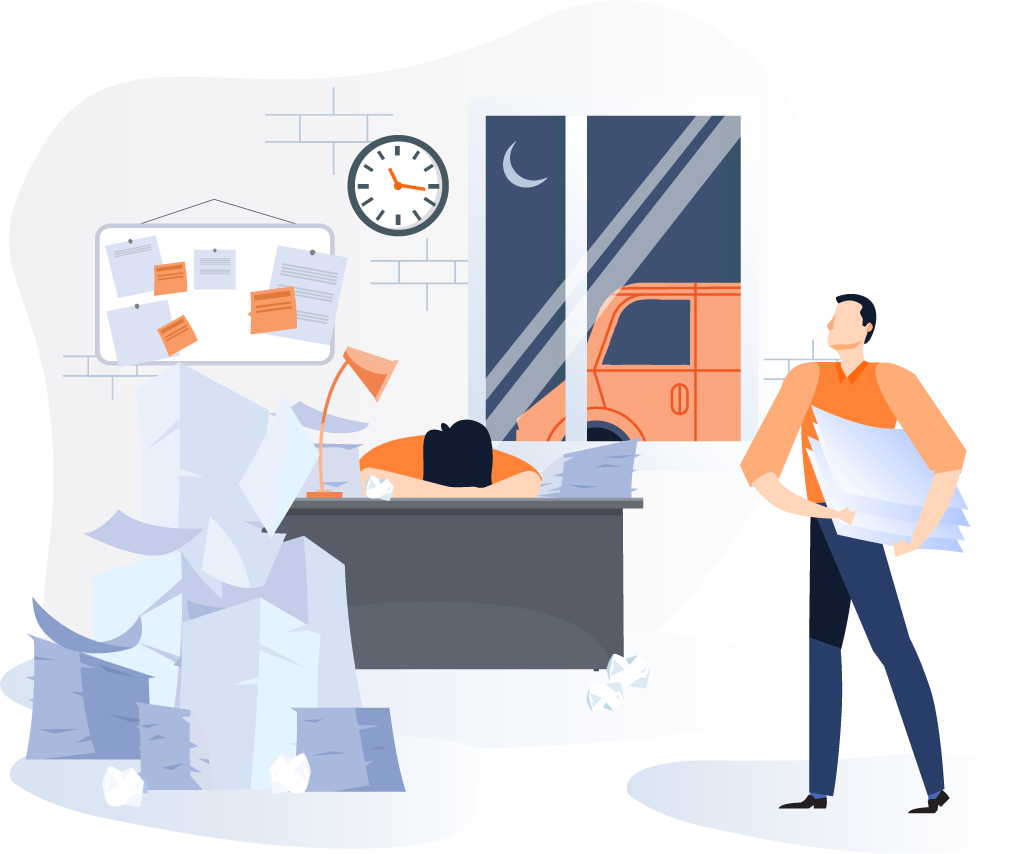 KNEE DEEP IN DOCUMENTATION?
Still using paper and pen on your jobs?
Stop doing things twice.
Have you ever arrived on site, only to find you need different equipment or a smaller crew? Tired of waiting for reports and estimates? Technician turnover causing disruption? Admins struggling with searching for paper documents and manually naming photo files for reports? These redundant processes don't just harm your team's productivity with lengthy delays — they also leave money on the table.

By connecting the field with the office, restoration contractors can:
Increase work capacity

by documenting in real time

When a field technician is on a job taking room photos and making notes within the Encircle mobile app, your office staff can see those updates in real time to work on the claim's paperwork. Together, your field and the office can work in parallel to handle jobs faster and more efficiently.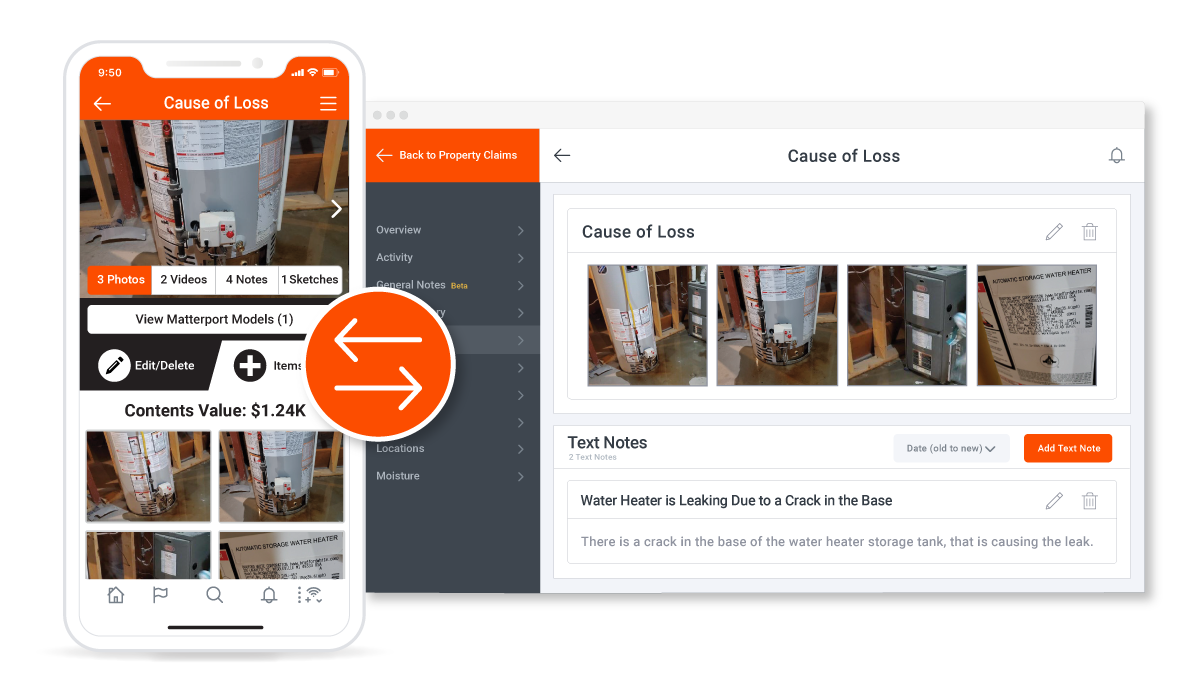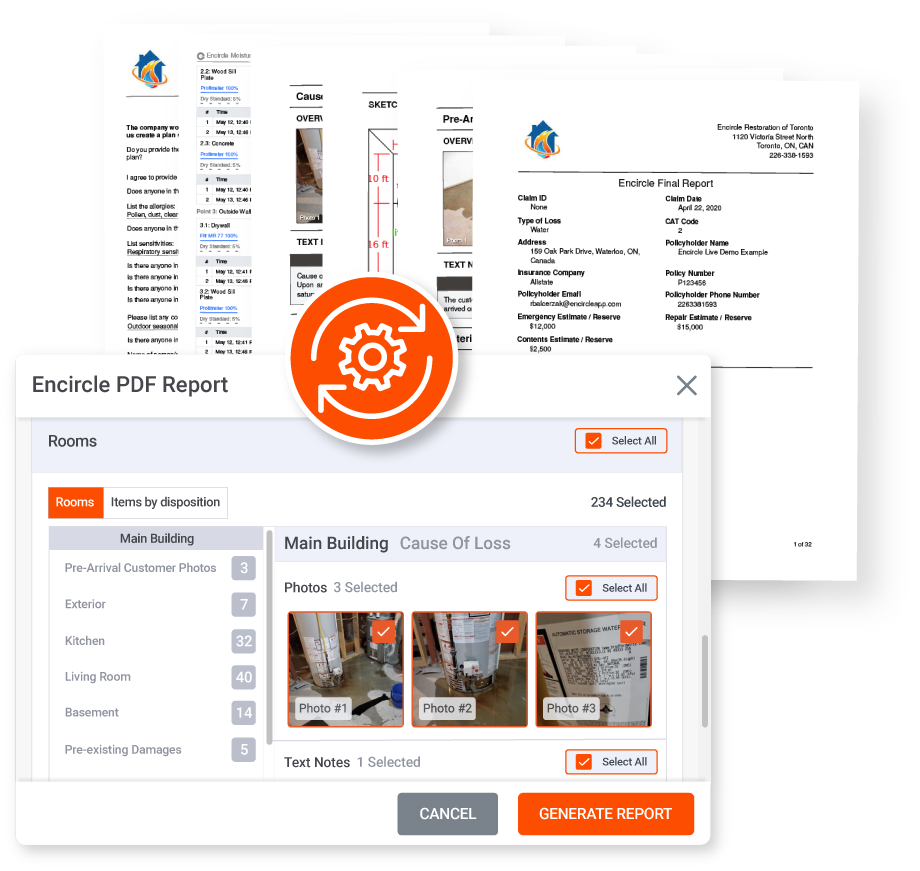 Improve Profitability
Increase profitability by reducing the costs associated with tedious, unnecessary tasks. You'll keep more money in your pocket, reduce cycle time, get paid faster and free up time for more jobs.
Increase Productivity

and Collaboration

Within one platform, you'll be able to organize all claim details. You can also leverage collaboration tools, making everything from signature collection to automated reporting easy for everyone involved: project managers, claims coordinators, field technicians, sub-contractors, administrators, and more.
Create Transparency and Trust
Promote trust and transparency between your business, homeowners, and insurance companies with detailed and professional documentation. You'll reduce risk, maximize profits, and exceed your customers' expectations.
Plus, homeowners can gather and share digital images and information from the job site before you arrive so you can come prepared.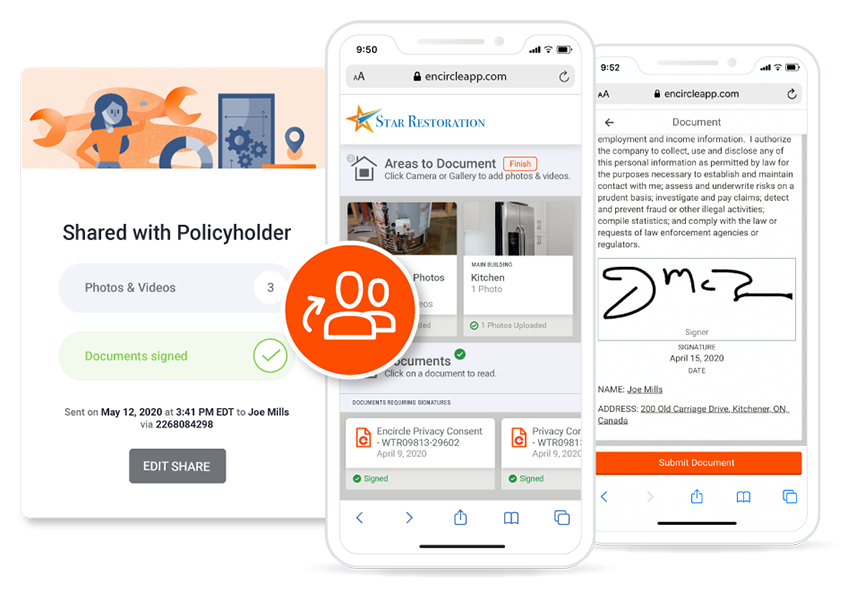 Save Time and Free Up Billable Hours
Encircle replaces pen and paper processes, allowing you to instantly collect and share job details in an organized way, complete with collaboration tools, signature collection, and automated reports. Not only will you be able to complete jobs faster, but you'll free up more billable hours.
Simplify Contents Packouts
Encircle helps restorers quickly and accurately document items, dispositions, and pre-existing conditions to organise pack-outs. Plus, restorers can find the replacement value for items in half the time it would have taken if done manually, all while including a link to support that value in a report. Even better, all photos and notes are organised and labelled to help restoration contractors easily create comprehensive reports and inventory listings within a few clicks.
Decrease Disruption
With field technicians and subcontractors capturing job details in the Encircle app, your job documentation becomes consistent while reporting on jobs becomes easy. Plus, everything is backed up and located in the office in the event of you encounter staff turnover. A technician taking over another employee's file effortlessly gets up to speed to understand the job. This makes it quick and easy to keep the job moving forward.
ENCIRCLE HAS YOU COVERED
Reduce Job Liabilities
With thorough documentation and unlimited data storage, Encircle makes it easy to reduce your business' liabilities and easily back up your estimates. You'll be able to prepare comprehensive, detailed reports within minutes to document preexisting conditions.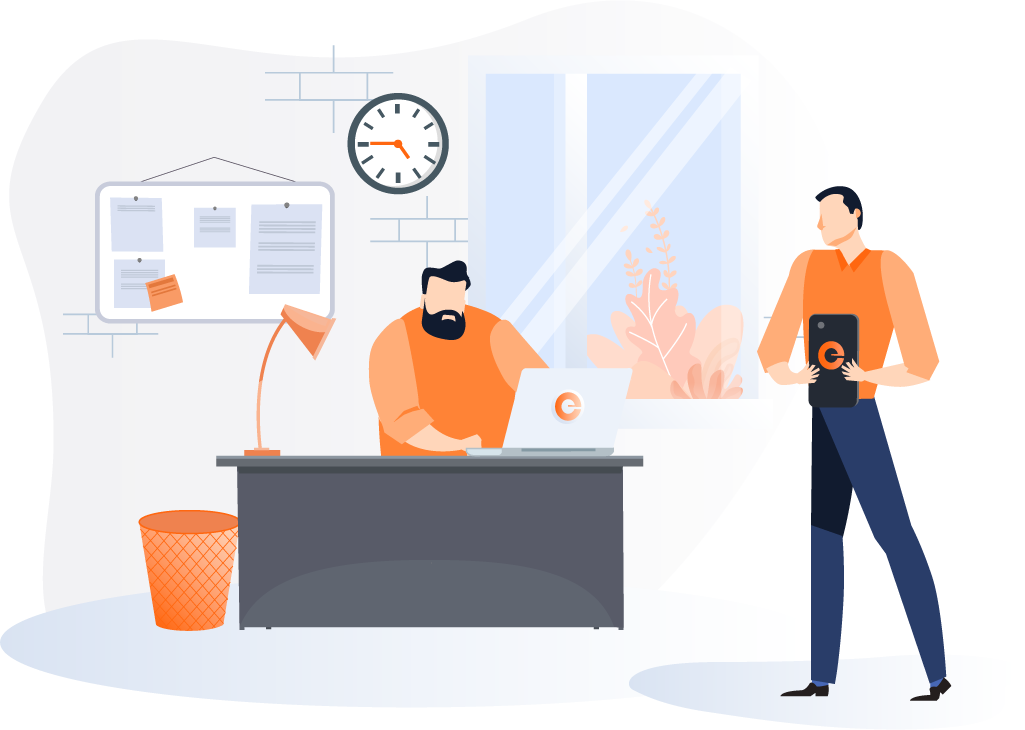 TRUSTED BY THOUSANDS OF RESTORERS AROUND THE GLOBE Testimonials
Don't just take our word for it.
"We combine reports and data from other systems and [estimates], and any subcontractor invoices, and anything else that pertains to the project, [and] we create one complete PDF report that we send over to the adjuster or insurance carrier… And it's a full, complete report and account of the work that was done on the job with all of the information that our customer needs"


KEEGAN TRUDGEN
President, PuroClean -
Chicago/Elk Grove Village, Illinois
"It's cut down on the hours used traveling back and forth making sure that documents, work authorizations, signatures, and photos are uploaded and I am able to complete more assignments within the day."


DERRICK BALDREE
General Manager, Firestar
"Within less than a week of on boarding Encircle it was put into full action for us during the Windsor floods. The intuitive nature of the software allowed all personnel from techs to project managers immediate use and saved us time and money handling this CAT. Moving forward, we will be using Encircle in every part of our business."


STEPHANE DE CAEN
Owner, Paul Davis Simcoe County
"I used Encircle on a CAT we traveled to recently. Game changer! Kept everything moving from my estimates to the technicians back to the office. Paperless!
DANIELLE BROCK
Senior Estimator, Teasdale Fenton
"This would have been a documentation nightmare and would have taken weeks using our old methods. In a time of disaster, every second counts. With Encircle, we were set up in an hour and sharing updates in real-time. Encircle was critical in bridging communications between the field and all involved, regardless of their location, and decisions were made instantly."


JOSH BACHMAN
Director of Operations, J.C. Restoration
"It's our preferred weapon of choice. It's an application that always works, and anybody can use it."


BROCK MERWIN
General Manager, Paul Davis Restoration
of Suburban MD/Washington DC